It's a busy time for Charlaine Harris. With a grandson due to arrive soon and books in the process of being written, Charlaine made an appearance on the Today show on June 28th! She appeared alongside fellow author Janet Evanovich  where they shared some of their recommendations for summer reading. Charlaine had given us a heads up on this appearance a few days ago on her Facebook page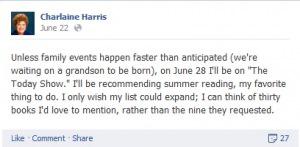 Now if you missed watching it live, have no fear we have the video for you here!
Visit msnbc.com for breaking news, world news, and news about the economy
I know she didn't discuss anything Sookie Book related at this time, but this appearance still had me giddy as a fangirl. Some of her picks have me wanting to check them out… to help tide me over till Dead Ever After. And her quip about Jeanine Frost "She ripples pecs with the best of them" … utterly priceless.
What do you think of their picks? What would you add to our required reading list? Let us know!
Pssst
For those who are not on Facebook, we wanted to make sure you saw 2 of the behind the scenes pictures of Charlaine before the segment. They were posted on Charlaine's Facebook page. Enjoy!