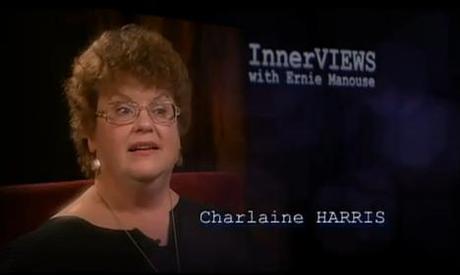 Charlaine Harris was interviewed by Ernie Manouse and shared her InnerVIEW. Judging by what is said during the interview, this was recorded a year ago, while she was writing "Deadlocked". I found this interview very enlightening and interesting, and thought I would share it with you to see what you thought about what she said. Sorry, if you've seen this before.
Some highlights: Charlaine mentions her assistant's reaction when she told her how the series will end. Shares whether or not her own kids read her series too. She also talks about True Blood.
This video is 26:53 minutes long, so be sure you have time to watch it!
Watch the video below!
In more recent Charlaine news…she shared this on her Facebook page.
Charlaine Harris
On the plus side, the editorial changes for DEAD EVER AFTER are completed, and the book is over ten pages longer. It's back on my editor's desk. On the minus side, I can now tell you that the Syfy deal for the Harper books is a no-go. Back again to the (hopefully) plus side, today Toni and I find out how AN APPLE FOR THE CREATURE is selling.
That's too bad…about the Harper on Syfy deal. I was looking forward to that. Hopefully the added 10 pages include lots of Eric and Sookie! What are your thoughts? Share 'em below!