Hey Eric & Sookie Lovers!
Here's the latest update on Charlaine Harris!
Charlaine attended this year's Book Expo America, the annual booksellers convention that is now wrapping up at New York's Javits Center. Where the focus seemed to be on publishing's strongest demographic: women.
There was this year's "Buzz Panel" on potential breakout fiction, during which five of the six presenters and four of the six novelists were women. And yesterday there was the author breakfast, which featured The Office's Mindy Kaling, Diane Keaton,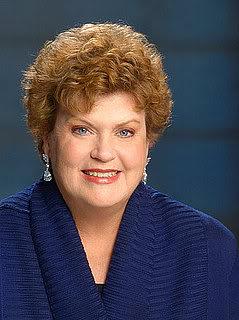 Charlaine Harris (author of the vampire love stories True Blood was based on), and lone male Jeffrey Eugenides — though it should be noted that his new novel, The Marriage Plot, will be about a woman.
Charlaine reminded everyone at the Book Expo of the thin line between those who get to speak at a BEA breakfast panel — TV or movie celebrities and those whose books become TV shows or movies — and those who don't. She explained why she wasn't going to talk about anything she wrote before starting the series revolving around the lovelorn, telepathic Sookie Stackhouse (the eleventh entry of which, Dead Reckoning, came out earlier this month).
"You're probably thinking, Wait a minute, she's skipping all those years she spent writing conventional mysteries. Yes, I am. A lot of readers skipped over them, too." And then: "When Alan Ball comes knocking at your door, you answer it."
We find it interesting Charlaine only wanted to discuss the Sookie Stackhouse novels – do you blame her? They've not only made her famous, but rich too.
You can find out what some of the other authors were saying at the Expo here.