Home office, kitchen, bathroom - let's add another room to the mix and keep things interesting. I've been working on our guest bedroom for months now. Months people. It's looking better, but it's not done. Having finally finished the home office, I'm motivated to get 'er done.
My original plan for the room was this (you can read details here):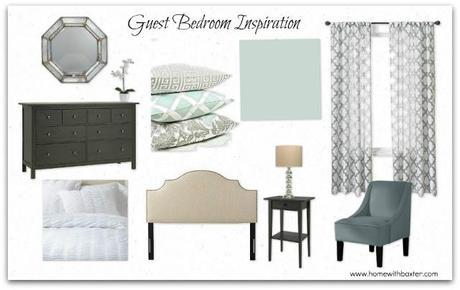 Basically, I was keeping our existing black Ikea Hemnes dressers and nightstands, buying a new headboard and bedding, chair, mirror, curtains and painting.
But as work in the room has progressed, I'm changing my mind and wanting to lighten and brighten things up a bit.  Now, I'm thinking about doing something more like this: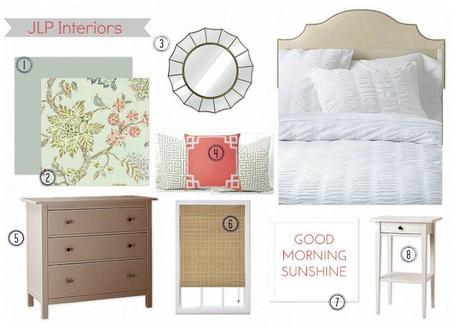 You might remember my struggle to find the perfect paint color, and that I finally settled on Restoration Hardware's Silver Sage color-matched to BM paint.  I love the color.  It's a little green, a little gray, basically it's right up my alley. 
I just purchased this beautiful fabric from Loom Decor.  Love it.  I'm going to try and make curtains.  I've never made curtains before.  Should be interesting.
I found this mirror at Target for like $30 bucks or something.  So much cheaper than the one I was originally looking at. 
I love coral!  This pillow adds the perfect splash of color and picks up the coral in the fabric nicely.  
Paint people.  I'm going to paint the dresser.  I'm leaning towards a taupe color, but I might go off-white.  I haven't decided.
Bamboo shades.  I already bought these and installed them and I'm in love.  I love the natural look and the texture. 
I'm going to DIY some art for the walls.
Painted nightstand.  Again, haven't decided on the color. 
With any luck, I'll have another room checked off the list in just a couple of weeks!