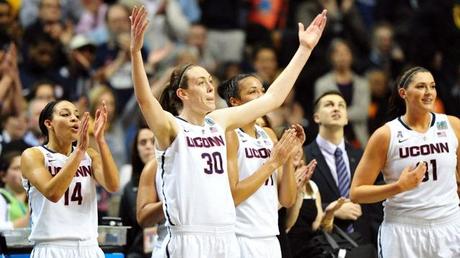 UConn's women's basketball team
It has been a pretty good month to be from Connecticut. March Madness came to a close on Monday, April 7th and Tuesday, April 8th, with the championship victories of the Men and Women's National Basketball Tournament. The UCONN Huskies Men and Women's basketball teams both won, making it the second time in the history of the NCAA Tournament where both championships were won by the same school. Who did it the first time? The Huskies, back in 2004. Having the men win the tournament seemed like a long shot; they were the 7th seed and they had to face some pretty good teams along the way. The women on the other hand were favorited, as they had been undefeated in the regular season. This sounds like great news right? Nothing controversial? Wrong.
As a sports fan, and a basketball player, I have always loved the game yet as a female athlete, I've always had something of a chip on my should. It's always upset me that the sport's male professional teams receive far more attention than the women's teams. After the men won on Monday night, Twitter was abuzz with everyone congratulating the team, acknowledging their accomplishments, especially making it as far as they did, as the 7th seed in the tournament. But on Tuesday night, after the women won, Twitter filled up with comments with a much different vibe. Some were of course of congratulations, yet others viewed the event differently. SportsCenter put up a tweet that detailed "UCONN's Amazing Run," with the statistics that said that this was the women's 5th perfect season (the most-all time), and it was also their 9th national championship (the most-all time). The responses to this? "Too bad women's basketball sucks." "Nobody is watching, nobody cares." "Haha, women's sports." So a men's basketball team can win a championship and everyone praises them, yet a women's team goes 40-0 for another entire season, wins the championship and it's labeled as insufficient because it's "women" playing.
This is just one example of how women are not regarded as equal in so many more facets of daily life then we care to recognize. I'm not naive: I know men and women's sports are different in some capacity (I tend to believe that women actually focus on the fundamentals of basketball, while the game for men tends to be about the "showy" moves of skill) but it doesn't mean that their accomplishments should be recognized unequally.
Take an action such as dunking for an example. Dunking is awesome and, yes, it is more prevalent in the men's game because of their height and ability to palm the basketball better. Some women certainly can dunk but it is not often an action you see in the women's game. But, if a women were to dunk, you would still have people who would comment that it is lame because she "can't dunk like a man." When a man plays a sport and builds muscle, he is viewed as an asset. No viewers comment that Lebron James is "too buff." Yet, if a woman has muscle and is strongly built (take Venus and Serena Williams for example) they are mocked, and called names.
You are always going to have people that dislike watching women's sports (jealousy, perhaps?). But when we come to the point where we cannot even admire our women athletes and their incredible accomplishments without an abundance of snide comments, then where are we as a society? Sure, fans comment on male athletes' performance or dislike them because of what team they are on, but it is not solely because of their gender. I am not arguing that women athletes cannot be critiqued or that people can't have opinions regarding a certain athlete, but that critiques should not be based on the fact that they ARE women. For example, racecar driver Danica Patrick gets this all the time. She is a woman in a predominately "male sport," and people constantly criticize her as unqualified because she is a woman. Now, you can make an argument about whether or not she is a good driver, but the discussion should not be swayed by the fact that she is a good driver or not a good driver because she is a woman.
Woman have made enormous strides in the world of sports and I want to emphasize that the majority of sports fans probably don't troll around with these objectionable views. But in this day and age gender shouldn't be such a significant factor in sports. Female athletes should receive the same recognition, respect, and praise given to male athletes. When we fail to treat athletes equally based on gender, we aren't just stifling the progress of female athletes, but of women in all areas of life across the board.