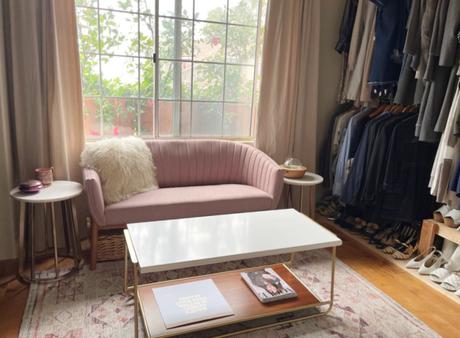 Change Your Space ... Change Your Life
is a bold statement.
But I believe it.
It doesn't have to be as big as a house move or a room remodel.
It can be as small as 
~ organizing a drawer
~ culling a closet
~ adding plants or flowers
It's about 
making steps to 
organize 
and 
beautify
your space 
to 
meet your  life needs.
Every step in that direction
is a statement in
~ Self Respect
~ Self Investment
~ Self Love and Care.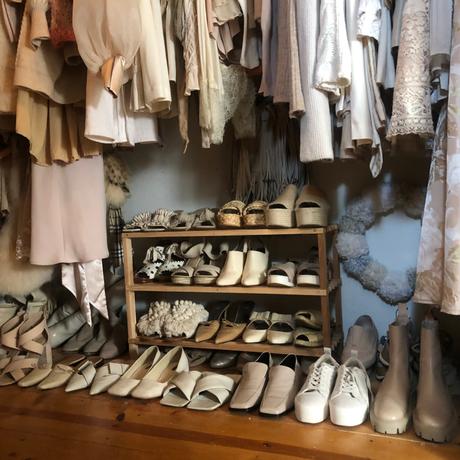 For me
organized beautiful closets
 make my heart happy.
I love seeing my pretty friends all in order
ready to be part of a 
Curated Outfit.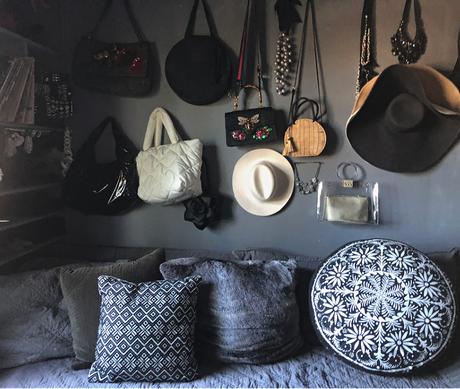 When each of my children moved out I grieved.
I had turned their past rooms into guest roomsand filled the empty closets with my ever expanding wardrobe.
But the rooms still made me sadeven 5 years after my youngest left.
After a very painful
for so many reasonsChristmasI realized I needed to
Change My Life
The old ways definitely were not working for me.I talked more about my need to changein my last post here.
Standing in this dark gray roomthe day after ChristmasI had a flash.
Why not take this unused room
and 
turn it into a 
dream closet room.
How could I have not seen this idea before!
It was because I had been waiting yearsto realizenobody was coming back.
Cognitively I couldn't be happier about that fact.
I am so very proud of my childrenand their individual accomplishments.
My three kids are definitely
Grown and Flown
with families of their ownand 
flourishing and thriving.  
I was the only onestill a bit caught in the past
with a big heart snag
when it came to thekid rooms.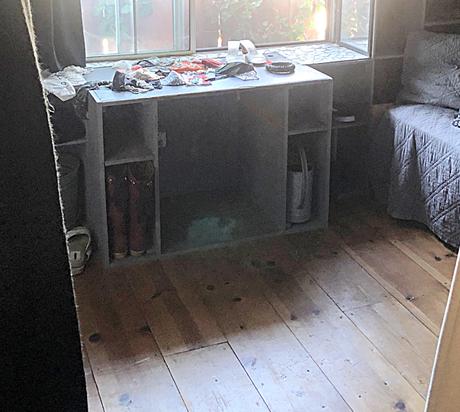 We had built out the kid rooms customwith built in beds, bookcases and desks.
Some how I got visually stuck thinking that we needed 
to continually work around what was there.
Just adapting here and there to 
'make it work'
for at least a little useie. hanging my black and white wardrobe.
I was locked in the past
until
I wasn't.
I decided Iwas going to take back the space!
It felt like a visual metaphor
I was going to 
Change My Space
in one of many steps to
Change My Life.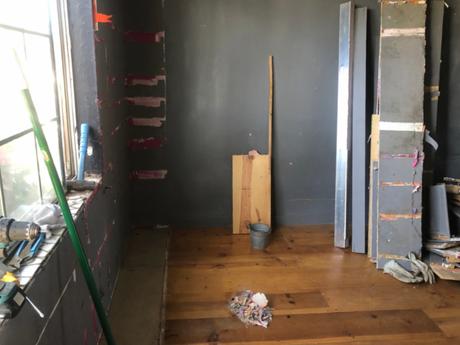 Once I made the decisionthe demolition felt  
exciting and empowering
all at the same time.
How could I have not seen this before?
Wellbecause it 
felt like a drastic step
to literally tear down what was
to build the new.
I also wondered if I deserved so much space.
Which is also sillyand a bit sad and telling.
The room literally sat empty and abandonedexcept clothes storagefor 5 years!!
It had been waiting for me
 to realize
I deserved
to use it.
I deserved to have the space
serve my needs
of 
Organization and Beauty.
I used to feel a bit oddbecause I have so many clothes.
But dressing is a 
Creative Art Form
for me.It is 
part of 
Who I AM
I need
Beautiful Spaces
to 
organize
my clothes and accessories
that are my 
Creative Palette
I deserved to take an unused space
and 
turn it into 
a space that serve my life
my passions
and 
is a sanctuary to be in.
I just needed to be able to see it and feel it.To realize I deserved theSpace.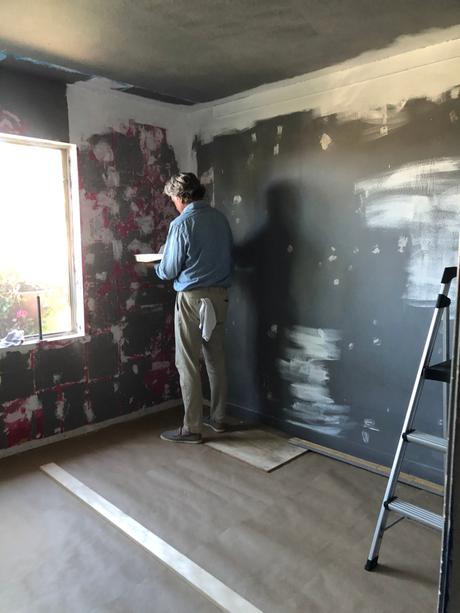 Jeff and I have worked togetherhere at the house
bringing our visions to fruition
for decades.Believing
homes need to change
as 
lives change.
I am forever 
Grateful
I married a man
who is able and willing
to help make my visions 
a reality.
After the room was gutted of all of the builtins
there were years of use and reuseto be patched on the walls.
Which isn't that differentof how we continually 
need to patch our heart at times
as we move into new
 Life Transitions
getting ready for new 
Life Chapters.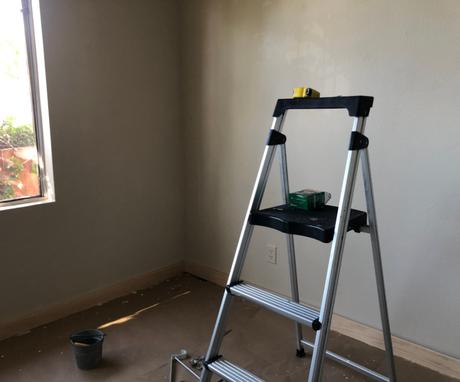 And oh how catharticis a new coat of paint!
All the promise of the new to come!
Jeff and I both marveled at how much
The room  was ready for a whole new lease on life!
as am I!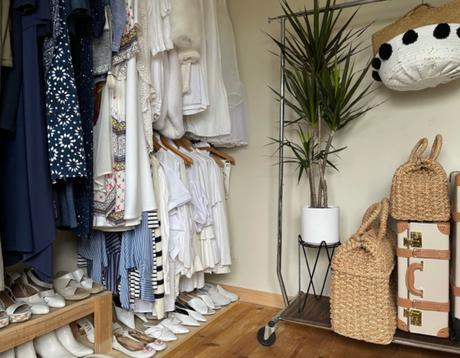 Jeff refinished the wood floors(that he had installed decades ago)
We hung double hanging rods
on both sides of the main wall
leaving the center
just single hung
for my long wardrobe pieces.
A thin shelf was made for my shoe collectionsalong with an elevated shelf.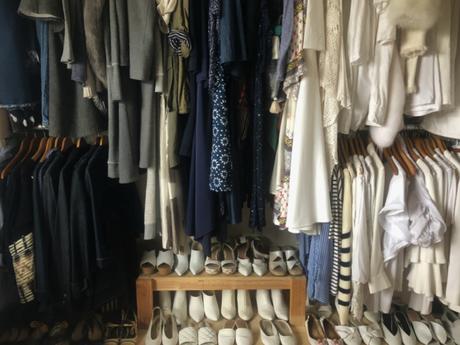 Oh how I love seeing all of my piecesin eye view and tidy!Makes my heart happy.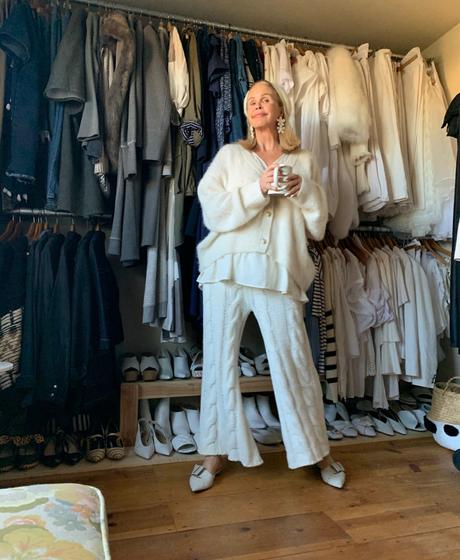 I started to walk through my new space every daywith my morning coffee.
I loved the open spaciousness of the room.But it didn't feel quite done.
It had always been a dream of mine 
to have a large closet with 
a chaise.
Some people dream of huge homes
my dreams have been of
wonderful closet spaces
where I can see everything!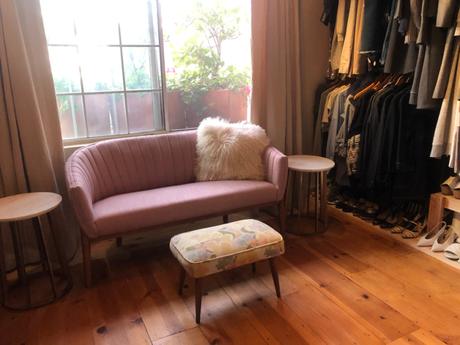 So I found 
the sweetest little love seat
in pink
becausepink made my heart happyand felt like a wonderful  frivolous luxury.
I found a dusty pinkthat plays perfectly in the space.
I added two marble tablesand brought my in my vintage footstool.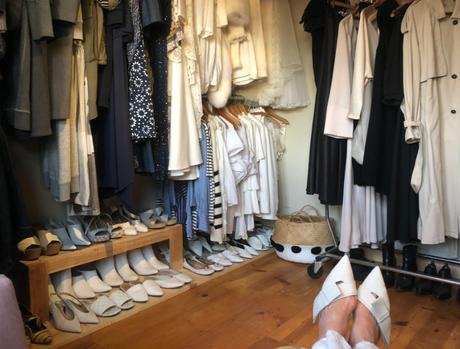 Sitting in my new closet room
feels like 
a wonderful exhale
of calm.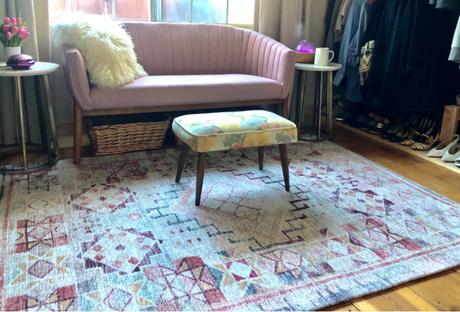 I decided to warm up the space with tonal rug.
I started doing my morning work in mynew closet roomin the morningsonly to realizeI didn't have a big enough spaceto set my computer and clip boards.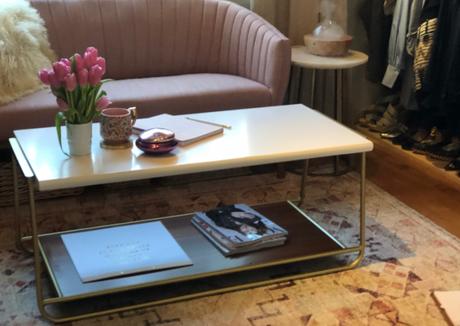 So I ordered a complementary 
coffee table
to do just that!
I got one with two shelvesso that I could keep my newest fashion magazinescalendarand planner in place.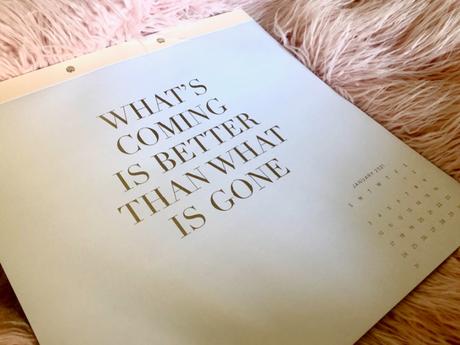 I found the most wonderful calendarcomplete with inspiring monthly messages.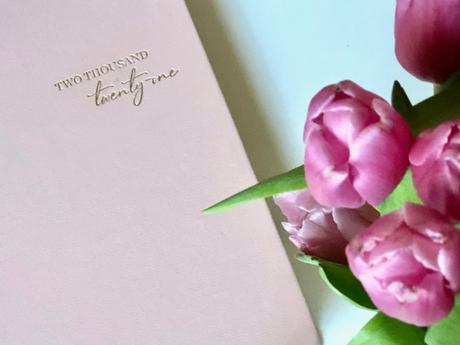 I am using my beautiful planner this year.
I write outMy Gratitudesfor the dayeven before my daily to do list.
And boyhas that really 
helped me refocus on 
the 
Good in My Life.
Fresh flowers make me 
remember to be present
and 
make me so happy.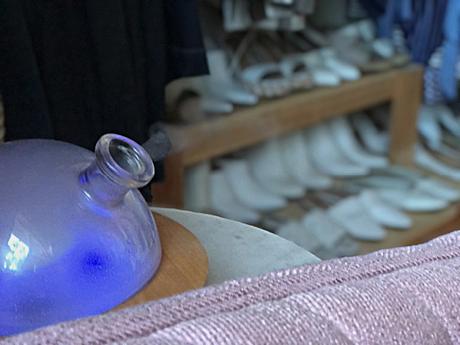 I use my 
essential oil diffuser
every single day.It has a transporting and calminng effect for me.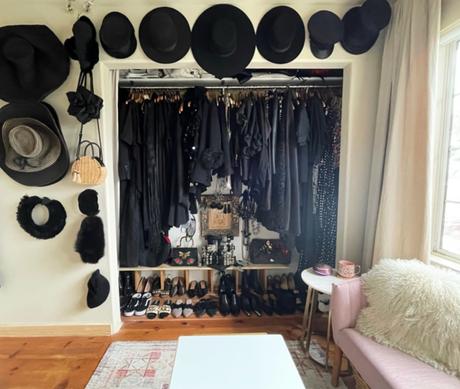 All of my black pieces can nowstretch out into the entire closet.No more having clothes jammed together.A heavy clothes edit helped that situation as well.
It feels so luxurious to have space for everything in my black , white, navy and gray closet.
Although you can't see themI also installed protective curtains overmy blacksbecause the room has sunlight.
We also installed a blackout shadeand drapesso in the summer the entire closet can be protected form sun damage.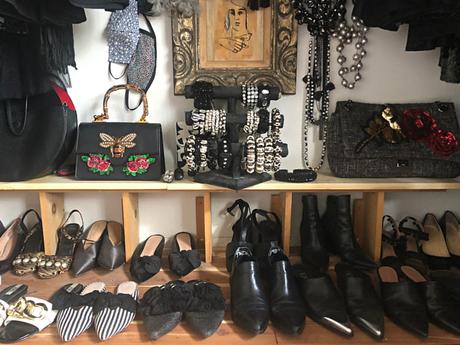 I love keeping my closets by colorso I can keep my shoes and accessorieswithin neighboring color view.
It makes styling outfits so much more fun!
It's literally 
shopping my closet
in the very best way!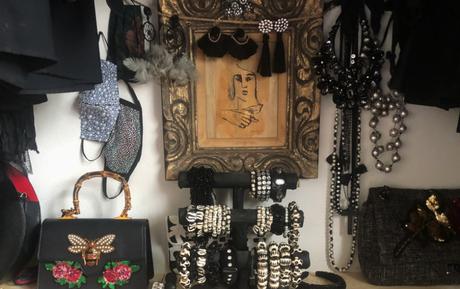 Creating accessory vignettes 
is a favorite of mine!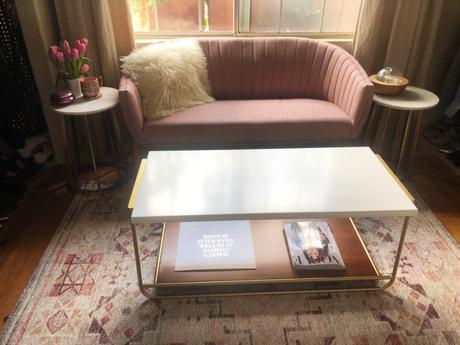 When I began to this room remodelI really didn't realizejust how much
Changing My Space
would feel like another great
Life Change.
But it really does.
I was able to fully 
move out from 
visual odes 
to the past.
I was able to 
Self Validate
that I 
Deserved to use the Space
I was able to realize 
and 
be really good with
my space needs
and 
claim them.
We all have different passions.
Some of Mine are
Clothes and Accessories.
I am ever so 
Grateful
for my husband
and
to be at a time in my life
where I have the opportunity to 
Change My Space 
and 
Change My Life
one step at a time
and with a sunset closet view.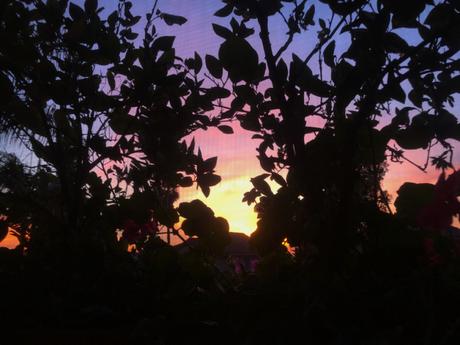 As always my friends
I wish you love and joy
as you style your life