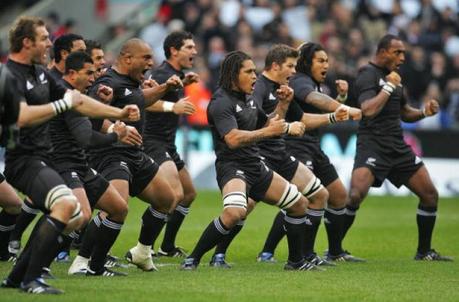 This morning, I woke up before 9am for the first time in a while. This morning was the start of the Rugby World Cup, and saw the hosts, New Zealand, completing a comprehensive victory over Tonga. At least that's what the 41-10 scoreline would suggest, but as the match progressed, and the Tongan defence strengthened, New Zealand had some trouble making much headway. This only underlined the perennial questions over New Zealand's world cup credentials.
The All Blacks, with their colourful brand of rugby, monotone kit and renowned pre-match Maori dance, have fans all around the world. But since their victory in the inaugural World Cup in 1987, despite often being favourites for the title, they have fallen short in what has often been described as a 'choking' fashion at every tournament. New Zealand's 1987 victory is now becoming more and more like England's 1966, but unlike England, the All Blacks have often gone into tournaments with the expectation that a good performance will result in victory, rather than a vain hope. 
New Zealand find themselves hosting the tournament this year, as they did in 1987, and with the alleged home advantage, and increased media attention, there is even more pressure on the team to bring home the Webb Ellis trophy. However the two losses in the recent Tri Nations tournament would suggest that the All Blacks are in an even weaker position to start with than they might have previously been. Having won the Tri Nations in every World Cup year since it started, perhaps this disappointing preparation will give the team a wake-up call, and coupled with the home support, this might just be the year for the All Blacks to buck the choking trend. Spain impressively silenced their critics in the football last year, claiming their long overdue first trophy. However while New Zealand undoubtedly have some class players (Dan Carter, Richie McCaw and Ma'a Nonu take a bow), their Tri Nation loss against Australia shows that they don't quite have that all round class to instill any faith in me that this will be their year. One suspects that come October, we'll be given the tired excuse of bad refereeing which has somehow caused New Zealand to choke in many a World Cup.