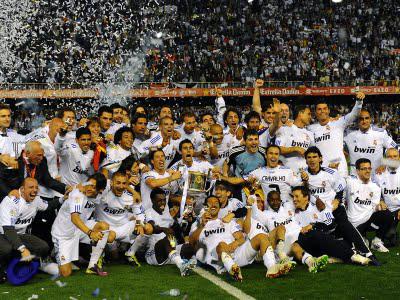 Well the Champions League Semi final round kicks off today.Today's game features Manchester United traveling to Gelsenkirchen, Germany to face Schalke.In the other semi, we have one of the biggest and most heated rivalries in the world.Barcelona will travel to the Bernabeu to face Real Madrid.
Manchester United-Schalke- Out of the two match ups this is obviously the one I am looking forward to the least.To my surprise Schalke had a scintillating battle with Inter Milan over two legs.That was probably the most exciting matchup in the Quarterfinals.Thanks to Schalke's 7-3 thumping of Inter on aggregate, the Germans will come into this matchup with a ton of confidence.United on the other hand has been trudging along in the league and the Champions League.Not really looking overly impressive but definitely handling their business in a workmanlike fashion.They were impressive against Chelsea and did deserve to go through based on the simple fact that they took their chances and Chelsea did not.I believe this could be a close tie on paper based on the face that Sir Alex will not go into the first leg with guns blazing.He will go in cautiously and try to get a 0-0 or maybe 1-0 result.I think United has far too much experience dealing with the latter stage Champions League pressure to slip up here.I fully expect Manchester United to be at Wembley.
Barcelona-Real Madrid- El Clasico is the must see game every year in La Liga.This year has been extra special as we will be treated to a total of 5 games this season.If you were to ask me a week or two ago about who I thought would win this, I would have said Barcelona and it would not be close.Now that Real broke through and took home the Copa Del Rey over Barcelona, I feel that they have all of the confidence going into this semi final.After what Barcelona has done to Real in the last few years and of course the 5-0 demolition of Real in the early season edition of el clasico, Madrid really needed a confidence boost.Beating Barcelona straight up and winning silverware in the process absolutely counts as a boost of confidence.Not to mention the face thatBarcelona is having an injury crisis at the back.Puyol has been hobbled for a while and now the Catalans will be without Maxwell and Adriano at left back.That means that if Puyol does play, he will slide over to left back and cover Ronaldo(which he did accomplish magnificently in the '09 UCL Final) while Mascherano or Busquets will slide into the center back role.I think that if Real does win this tie, it will be thanks to the Special One.Jose Mourinho is a genius when it comes to preparing teams for the Champions League.He has won two Champions League trophies and had Chelsea in the semis seemingly every single year he was in London.There is no one better in regard for preparing a team to win over two legs.If he needs to, he will figure out a way to park the bus and win just like he did with Inter a year ago.I just think that everything is happening at the right time for Madrid and I see them pulling off the upset.