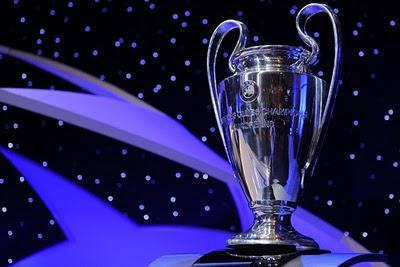 We have the Champions League Quarterfinals stage beginning today with two matches.Inter will welcome Schalke to the San Siro while Spurs will travel to Spain to face Real Madrid.On Wednesday, Manchester United faces Chelsea at Stamford Bridge while Barcelona welcomes Shakhtar Donetsk to Camp Nou.Here are my predictions for the four matches.
Inter-Schalke:Personally, I feel that this is definitely the least exciting matchup of the four.I usually don't enjoy watching Inter and I have not seen much of Schalke this year.Diego Milito will play for Inter so we will have to see how he is integrated back into the squad.I think Inter has too much experience and firepower and they will take care of Schalke over two legs.
Real Madrid-Tottenham Hotspur:This is a match where whichever team that had the home game in the 2nd leg would be the team that I favor.As it turns out, Spurs host the 2nd leg at White Hart Lane and with that I think they take this tie.If Real want to win this they need to come out of the gate strong at home and grab a lead to take to North London.Ronaldo is banged up and Benzema is hurt and I really feel that Spurs will get a draw at the Barnabeu and then take care of business at home.
Manchester United-Chelsea: A lot of people are picking United to take this one and I don't fully understand why.United has been picking up the necessary points in the league but their form has dipped.Chelsea is on more of an upswing and Chelsea has beaten United head to head already.It will be important for Chelsea to take a lead to Old Trafford.I think if Chelsea has a lead to defend then they will definitely go through.This would be a good time for Torres to make a statement and score a couple of goals and help guide Chelsea to the Semis.
Shakhtar Donetsk-Barcelona: If Shakhtar was playing anyone else left other than Barcelona, I would strongly consider picking them.Donetsk has been very impressive in the Champions League so far winning their group and dispatching AS Roma with ease.I love their attackers in Douglas Costa, Willian and Luiz Adriano.They are a very fun team to watch.With all of that said, Barcelona is still Barcelona and Shakhtar's style plays into the hands of Barca.I expect Barcelona to take care of business but I am hoping that Shakhtar at least go out guns blazing and make it two exciting games.