November is shaping up to be the month to be an art buff in Amsterdam. Alongside the Museumnacht held last weekend, the "Chambres des Canaux: The Tolerant Home" exhibit opens up even more off-duty Amsterdam for public consumption. Unlike Museumnacht, however, the Chambres des Canaux gives patrons the opportunity to visit places they would ordinarily have no access to, whether at the dead of night or during working hours.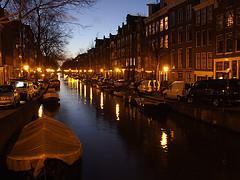 The exhibit is being held as part of the 400th birthday celebrations of the Amsterdam canal ring. This particular event is meant to celebrate the historical tolerance of Amsterdam by displaying progressive works of art in the former and present homes of city leaders - canal houses located on the famous Golden Bend. Tolerance is the main theme of the exhibition as it is an ideal that many historians place as having originated in the Netherlands around the time of the construction of the canal ring over 400 years ago. This time period, also known as the Golden Age of Dutch economic and cultural creativity is linked as the founding time of the Dutch doctrine of tolerance. Twenty canal houses, including the mayor's official residence, will be open to the public until November 17th 2013. The houses will be exhibiting paintings by famous members of the global art scene such as Marlene Dumas, Fiona Tan, David Claerbout, Ina van Zyl and Guido van der Werve, as well as the current favourites of the Dutch art scene Viviane Sassen and Joep van Lieshout.
The curator of the exhibit, Siebe Tettero, only picked works created by artists with either personal or professional connections to Amsterdam. He included not only the artists that were born or have lived in the city, but also those who have trained in Amsterdam educational institutions presumably because they can likewise be relied on to represent the modern school of Dutch art. All works are modern and also have "tolerance" as a theme in one way or another.
A pass to the event costs EUR 13 and includes entrance for each location once at some point until November 17th (except Monday 11th).
© 2013, Amsterdam City Tours Blog. All rights reserved. On republishing any part of this post, you must provide a link back to this original post