Chambor Radiant Touch Up Concealer Claims:
Covers dark circles, spots & blemishes.

Easily blendable, light, creamy, smooth texture

Promotes luminous, flawless, even skin tone.
With emollients, minerals and plant ingredients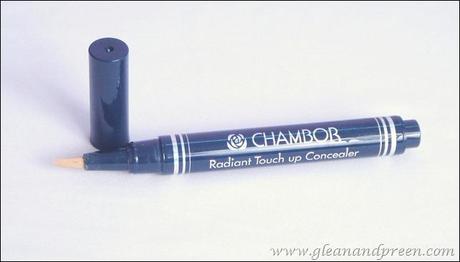 Price:
695 INR for 3ml
Shelf Life:
2 to 2.5 years  
Availability:
 In all Chambor outlets and also available online at www.medplusbeauty.com  
My Expectations:
I expected a Super Blendable formula with a light-weight feel offering medium coverage. I was slightly hesitant that it might give me gray shadows due to my brownish dark circles so wanted to use more as an illuminator and spot concealer than for dark circles. Let's get to know how this concealer fared…..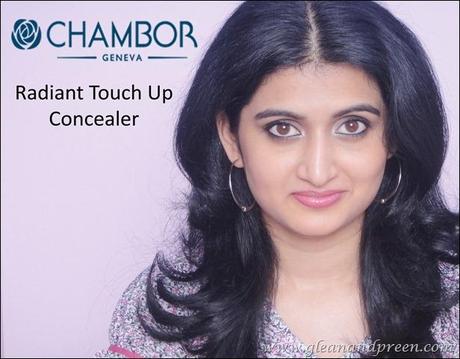 Look & Feel
Package: Comes in the form of a marker pen with a 'Click – It' mechanism. Though the shape and size of the package makes it portable, the 'Click' mechanism doesn't function too effectively. When used for the first time I almost had to click the pen for 20-30 times to get the product out. Also once clicked the product comes out slowly and I had to wait for a few seconds before applying it. Ya…seconds do matter on busy working days . Oh by the way it has a plastic cover with a seal. So, when you are buying, if the plastic cover is missing then don't purchase it.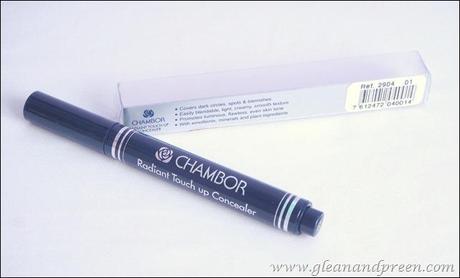 Applicator: The brush tip of the pen is very soft and it fits perfectly into the contours of the eye. I noticed that the bristles soak up a lot of product so the product is more on the brush than on your skin. Much product wastage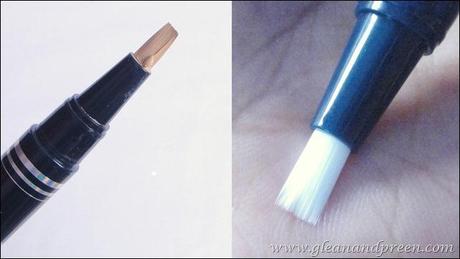 Shade: 01. This shade suits medium to fair complexions with yellow undertones.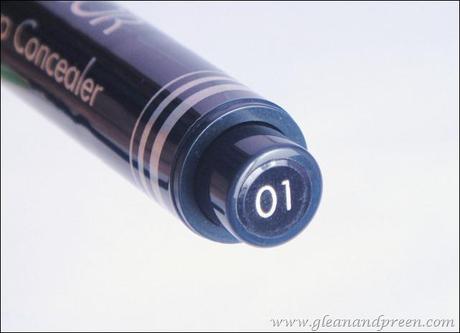 Texture: It has a smooth texture with feathery light feel. It gives a slight cooling effect when applied on the skin.

Chambor Radiant Touch Up Concealer Effects
Blending? It dries soon so we have to blend the concealer quickly. I personally prefer using a fluffy brush for blending this concealer than using fingers, because it's  time consuming and results in patches.
Coverage? Gives light – medium coverage for dark circles and offers full coverage for spots. For my under eyes, it didn't completely cover the brownness but thankfully it didn't give me the zombie gray shadows.
Before and After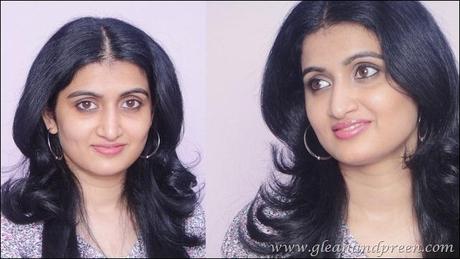 Dark Circles Still Visible Due to Medium Coverage
Brightening? When used as an illuminator for under-eyes on top of the Kyrolan TV Paint Stick, it instantly brightens up the eyes and keeps it fresh for a long time.
Photo Flash Safe? Yes.  It doesn't give any whitish cast.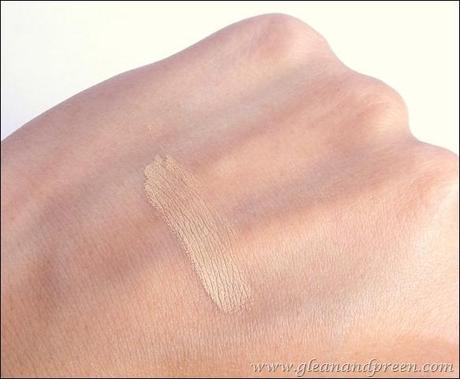 Moisturizing?  No. I have to use a good moisturizing eye-cream else the application gets patchy and streaky.
Creasing? Very little when set with a powder.
Lasting Power? 5 to 7 hours.
Cost Efficiency: Moderately Efficient.
Final Note
  I am personally not too impressed with this concealer because of the drying effect but considering the coverage and the lasting power it's not a disappointing product. I feel it would be a very good concealer for normal-oily skin types but, for dry skin a good eye-cream becomes a must with this concealer.  
Dear Readers: Let me know your opinion about "Chambor Radiant Touch Up Concealer" in the 'Will You Buy It' section and share your feedback about the review through comments.
Did you check out the Ongoing giveaway?
Win free Kryolan TV Paint Stick in 303
Click to Enter: http://www.gleanandpreen.com/2013/03/sbs-monthly-favorites-giveaway.html