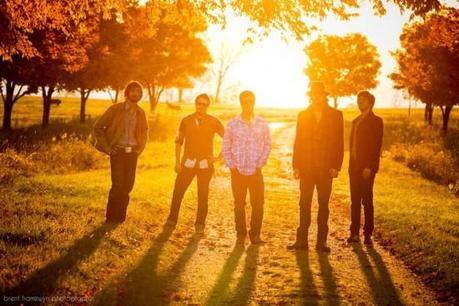 This past August, Vermont's Chamberlin (@chamberlinmusic) offered to let fans select the tracks for their newest EP Cabin Covers. While this may have been a somewhat risky tactic, I have to commend both the final choices and the band's ability to transform them — few outfits could successfully genre-shift Kanye West. 
A collection of stripped down, folk-driven remakes, the songs on Cabin Covers manage to uncover new depth in the songs' originals and breathe life and imagery into the Vermont mountain cabin where they were recorded. Anchored by the smoky hue of Mark Daly's vocals, the album re-imagines pop hits such as "Pumped Up Kicks" and "Little Secrets", turning them into acoustic gems complete with beautiful guitar tones, incredible harmonies, and earnest intonation.
Fans who purchase the EP get more than just fantastic songs, though. Partnering with Vermont Coffee, the band will be donating all proceeds from the EP to those most in need after Irene — not a bad reason to grab a few mp3s. The Chamberlin bandcamp site offers two ways to contribute: purchase a digital copy of the EP for $4.95 or a physical copy and pound of Vermont Coffee for $14.95.
Though this project is relatively new, the band has already released a full-length, Bitter Blood, and toured with fellow Vermont band Grace Potter and the Nocturnals. The album, a more produced, often electrified variation of their acoustic EP renditions, still carries a great deal of contemplative, emotional weight in Daly's vocals. In particular, the album's title track, "Dust" and "Turn Around" pack an incredible punch. When mixed with the more upbeat sounds from tracks like "Paper Crown", touting a funky guitar riff and melody, the release espouses variety well worth listening to all the way though.