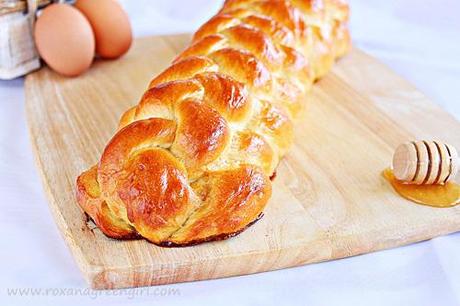 Happy Hanukkah to all my wonderful readers and friends!I'm not Jewish but I have a couple of friends and got to learn a little about this winter holiday.Hanukkah is an eight day holiday, also know as the Festival of lights. It starts on the 25th day of Jewish month of Kislev, which can be anytime form late November until late December. The holiday commemorates the re-dedication of the holy Temple in Jerusalem following the Jewish victory over the Syrian-Greeks in 165 B.C.E. There are lots of traditions that come with this Holiday, but most common are lighting the hanukkiyah, spinning the dreidel and eating fried foods like potato pancakes also known as latkes, jam-filled doughnuts and a festive braided bread called challah.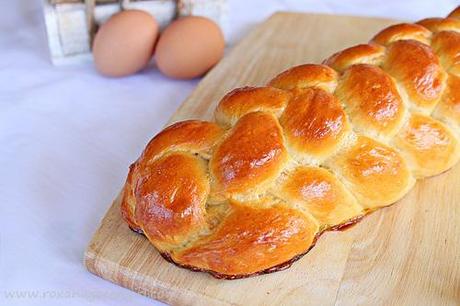 Challah is a festive bread with a brown crust and a soft white crumb. It is made for most of the Jewish Holidays and while it is most often seen braided (three, six or twelve strands of dough), it can be shaped into spirals or wreaths or baked into a pan.I've read a lot of different recipes for challah, some of them were using dairy, some not. Some called for raisins or sultanas. Some used sugar, some honey. There are lots of variations.My version is somehow close to what I found more often. The dough is made using eggs and vegetable oil, giving the bread a soft texture, somewhere between brioche and a soft white loaf.To sweeten it I used a little bit of honey. No dairy was used.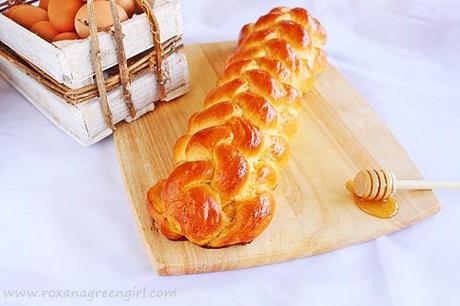 Challah
Ingredients3/4 cup lukewarm water2 tsp dry yeast2 tbsp. honey2 eggspinch of salt 3 1/2 to 3 3/4 cups all purpose flour6 tbsp vegetable oil1 egg for brushingpoppy seeds for sprinkling on top
Directions
In your mixing bowl add the lukewarm water, 1/4 cup flour and the dry yeast. Stir and let the yeast proof. When the yeast bubbled add the honey, lightly beaten eggs and the salt. With the paddle attachment on mix everything slowly adding 1 more cup of flour.Now change the paddle attachment with the dough hook. On the lowest speed mix the dough slowly adding the rest of the flour until the dough comes clean from the sides of the bowl.Take the dough out of the bowl and place it on a flat clean surface. Have near a bowl with 6 tbsp of oil in it. Slowly pour some oil (about 1/2 tbsp to 1 tbsp) on top of the dough and knead by hand until the oil is incorporated. Pour few more drops and knead again. Repeat until all the oil is incorporated. It should take anywhere from 30 to 40 minutes.Do not take shortcuts and use the stand-up mixer. It's NOT gonna work! Place the dough into a greased bowl, cover with plastic foil and leave at room temperature until it doubles in volume.When risen, punch down the dough, cover again and let it for a second rise. This way all the flavors are developing and you get the softest crumb!After the second rise take the dough out and divide it into 2 smaller balls. Divide each ball into 3 or 6 strands. If you'd like your bread to be braided in three, braided it like you'd do someone's hair. If you'd like a 6 braided bread, this is where the things get a little complicated.I tried to take step by step photos at this stage, but the best way to get it is by seeing this clip.
How to braid a 6 stands Challah Bread
After braiding your breads, place them on a baking sheet, cover and let rise again.Meanwhile heat the oven to 375F.When the breads are nice and risen, blush them with egg wash (1 egg beaten with 1 tsp water) and sprinkle some poppy seeds on top if using.Bake in preheated oven for about 35 to 40 minutes. Since I don't like a dark brown bread, I usually cover them with aluminum foil the last 10 minutes while still baking.