I love this chair, and like most of my chairs, it has a bit of a story attached to it.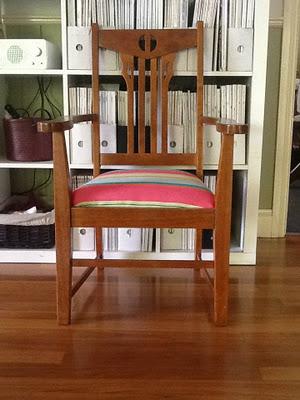 This chair was given to me when I was 12, I think?  A beautiful Canadian artist friend of my parents thought I might like it and of course, I loved it.  It didn't look like it does now, it was painted white and the seat was covered with a plain pale blue fabric.  But I saw potential and it sparked in me a life-long love of old chairs.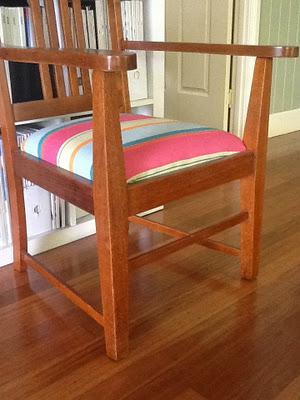 Over the years I painted the chair different colours such as bright yellow and then dark green - whatever paint I could find in my Dad's shed.  Eventually I new the day would come when I had to strip the paint back so the true beauty of this chair could be revealed.  It was time for my chair to grow up!
The job of stripping the many layers of paint went to a furniture restorer in Sydney.  I had a feeling that this chair was too important to be done by my amateur hand, and so I found an expert who told me when I went to collect my newly revealed chair that the timber it was made from was none other than Australian Silky Oak.  I had the timber waxed instead of using varnish because it has such a nicer finish and it feels more gentle to the touch.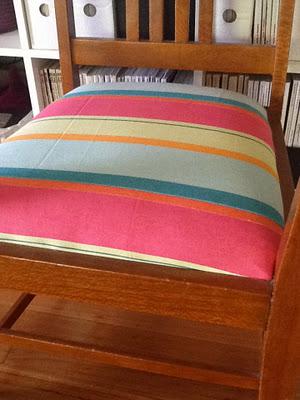 Yesterday I put a new cover on the seat and it looks perfect. I used a piece of French cotton canvas I bought from
Ici èt la.  I love this shop and their fabrics
 which are imported from France direct from the manufacturer,
Les Toiles du Soleil
. It is the only place you can buy this fabric in Australia.  In America, you can buy it online from their New York boutique, Les Toiles du Soleil NYC. 
I have other chair tales to share with you later.  In the meantime, I'd love to hear from you.  
Do you have any chair tales you would like to share with me?   
Kisses!
Heidi