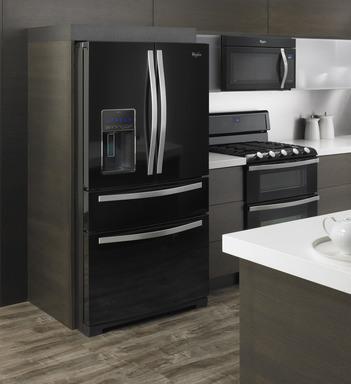 Whirlpool's new refrigerator featuring the CoolVox sound system. Photo from Whirlpool.
Throughout last week, we provided you with condensed summaries of all the latest appliance news from CES 2014. Many companies are bringing entertainment to the kitchen; Whirlpool is a great example, with their new refrigerator that features Bluetooth technology for listening to music, as well as their concept design of an interactive induction cooktop. We also covered the trend of smart home appliances. Familiar brands such as GE, Samsung, and LG are adding smart features and systems to their individual appliances and product lines.
Samsung has been a big name to watch for during CES 2014. As we discussed, they promoted a large capacity laundry pair with a dryer that can hold up to two king-sized comforters. They also announced their new ShowCase Refrigerator. It has a great internal organizational system, but its standout feature is the door-in-door showcase design. You can open the door normally, or you can open the thin outer door to access the ShowCase. The ShowCase has six dedicated food storage compartments which enhance convenience of use for every member of your family.
Now we would like to spotlight Samsung further, exploring their new Chef Collection appliance line in-depth.
The Club de Chefs and Samsung's Chef Collection
In June 2013, Samsung formally discussed its formation of a Club de Chefs. This would be a group of award-winning chefs consulting with Samsung, giving them advice from early on in the appliance design process as to what professionals value most in their kitchen.
This collective gathered up their best ideas and contributed them to what would become the Chef Collection line. Samsung wanted to direct its energies to high-end appliances for those who take their home cooking seriously. The premium look of this line emphasizes the professional appeal.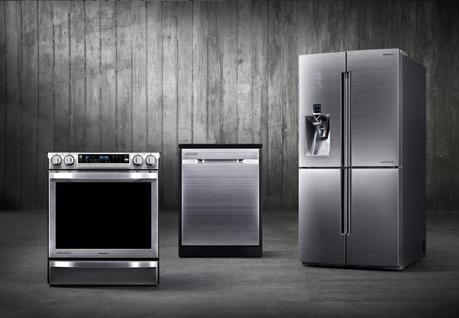 All images of the Chef Collection line are courtesy of Samsung.
What many CES 2014 reporters found curious was the noticeable lack of smart features in the line. Hadn't Samsung just announced their Smart Home platform? So then, why aren't any of the Chef Collection appliances included? Samsung's explanation is that their emphasis for this line is on thoughtful design, not connected use.
The Chef Collection includes a range, microwave, refrigerator, and dishwasher. Let's explore the features of this pro appliance line.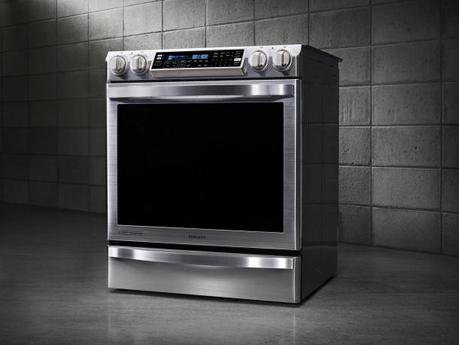 Range
This new electric range from Samsung boasts better heating precision, higher oven control, and more ease of use. Its main feature of interest is the Flex Duo function, which allows you to turn your oven into two separate compartments, each with its own individual temperature control. Want to make dinner and dessert at the same time and have them both come out perfectly? Now you can!
The range comes paired with an over-the-range microwave, but its features were not discussed in any great detail at CES 2014.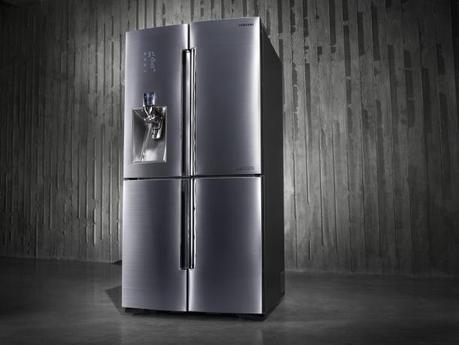 Refrigerator
The stunning Chef Collection refrigerator features four doors and a 33.3 cubic foot storage capacity. It has an elegant LED display that fades into the refrigerator door when not in use. The Triple Cooling System gives greater temperature and humidity control. This also allows complete customization of the bottom right section of the fridge.
A couple of features influenced by the Club de Chefs are the Chef Pantry and Chef Pan. The Chef Pantry is a customizable drawer for precise temperature control, targeting storage of "delicate ingredients." The Chef Pan is a metal tray for marinating meats; it easily slides out of the fridge and into the oven during cooking or dishwasher after you're done.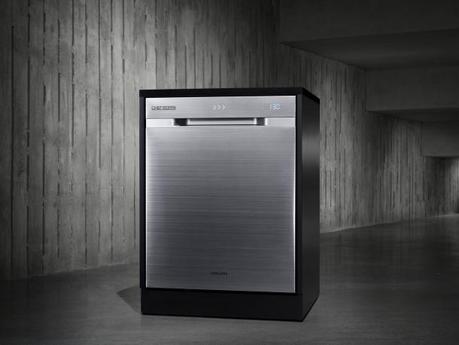 Dishwasher
Samsung has referred to their new Chef Collection dishwasher as a game-changer. This is because of the innovative WaterWall technology. Instead of revolving jets, this dishwasher uses a waterfall spray mechanism which moves back and forth to wash your dishes. They say this design makes for more efficient cleaning.
As with the refrigerator, the dishwasher has an LED display. Other notable features are the Zone Booster and cutlery rack. The Zone Booster allows for customizable zone cleaning. There is a rack strictly dedicated to washing cutlery, and it includes a removable rubber lining.
The suite is expected to be released sometime during the first half of 2014, and some reporters anticipate that the dishwasher will be the first product on the market.