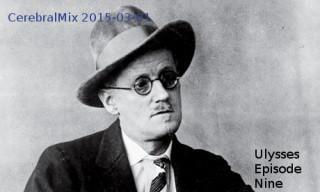 CerebralMix 2015-03-01 Ulysses Episode Nine
Sometimes it's just better to get a show up late than never.  This week has been a rough one for my work here.  This show is a couple of days late due to a an unforseen technical issue that lead to some additional production work needing to be done to bring it to you.  And, then on top of that, I am starting to come down with some mystery illness that is going around work.
But none the less, here is the Ninth Episode in our survey / examination of Ulysses by James Joyce.  We finish off the Sirens episode from the novel, and then move on to the first two parts of the Cyclops Episode.  This lead to a rather odd selection of music for this episode: it's a strange mix of abstract electronic works, pop / rock, and dub / reggae music.  But, given the concept that there should be no borders between different styles, it seems fairly appropriate for this transitional episode.
Readings
In the past I've actually included the text of the poems or stories as part of the show notes. In the case of Ulysses that would be a bit on the incredibly heavy side. Instead I have produced a guide: CerebralMix Ulysses Series that provides the references that I am using, along with a show guide to the whole broadcast of this series.
Listen Hear
–''
Playlist
Start Artist Track Title License

00:00:00 SndChaser CerebralMix Ulysses Ep. Nine: Intro / Sirens Part Three

00:38:19 Big Shoals 12 Steps

00:42:29 PeerGynt Lobogris Candles & Purple Leaves

00:46:09 Daydreamer Non REM \ letters to…

00:50:34 Mr. & Mrs. Smith 11- 12- 1 am

00:52:58 Daniel Estrem Siciliano from Flute Sonata No. 2, BWV 1031

00:56:28 SndChaser CerebralMix Ulysses Ep. Nine: Cyclops Part One

01:18:43 Iceman Bob Take Two

01:25:15 Th.e n.d Shiny Purple Circle

01:29:42 James Kibbie BWV655 Trio super Herr Jesu Christ, dich zu uns wend

01:33:02 circle of squares Ale of Juddah. Sir Sidney Rough Diamond

01:37:49 Papalin Vægtersang

01:40:57 Ged Bob Hésite V2.0

01:44:26 Submarine FM 4 Letters Words

01:49:55 Dr. Almeja The Cow Goes Moo – Suckers Lullaby (Dr. Almeja Little Farm RMX)

01:54:12 Felipe Sarro Bach, Flute Sonata 2, BWV 1031, Siciliano, Siloti transcription

01:57:48 SndChaser CerebralMix Ulysses Ep. Nine: Cyclops Part Two

02:22:16 Morpion Boss Trip

02:29:18 Steve Gunn Trouba

02:33:23 The Impossebulls Strictly Hiphop

02:37:12 CL Smooth Smoke In The Air (DJ Racy A.J Remix)

02:42:22 Med Dred So Hungry 4 Dub

02:46:35 The Fucked Up Beat The Situationists/ who set fire to weathered drums…

02:51:51 Gardner Chamber Orchestra Air on the G String BMV 1068 arranged for flute solo (Bach)

02:57:22 SndChaser CerebralMix Ulysses Ep. Nine Outro

Supporters
As always, SaltyHash came through with a donation of 4.499LTC again!

Follow

CerebralMix 2015-03-01 Ulysses Episode NineShare on Tumblr
Back to Featured Articles on

About the author

George De Bruin 4176 shares View profile
View Blog