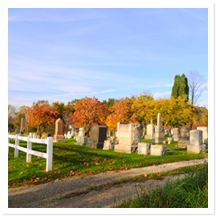 Cemetery monuments are not just markers of a person's final resting place, but are also an enduring reminder of what the deceased were like in life. It is no wonder that relatives taking care of the burial put so much thought on the design of the monument. However, because most of us have never had to purchase a monument before, there will likely be a lot of questions.
Before you choose a funeral monument, it will be best to check first with your chosen cemetery since some cemeteries have regulations on headstones and monuments. The cemetery's regulations will then help you narrow down your choices, which is a nice thing since there is a wide range of cemetery monuments available nowadays. Depending on your preferences and budget, you should be able to find one that will properly memorialize your loved one.
Cemetery Monuments: Frequently Asked Questions
Should I purchase a monument in advance?
Pre-purchasing a monument is not necessary, but is a good idea. By purchasing the monument ahead of time, your loved one will have input on what type of headstone they want and what they want inscribed. Another benefit of pre-purchasing a monument is that it will save unnecessary stress during a difficult time.
Can I use any monument at a cemetery?
No, each cemetery will have different regulations as to what type of monument can be used. There may be regulations on the size, shape, design and inscription used on the monument. It is best to check with the cemetery prior to purchasing a monument.
How long does it take to complete a monument?
Typically monuments will be completed 4 to 8 weeks after ordering. The delivery time is based on a number of factors, such as the size, shape, design and any additional customizations. The company you purchase the monument from will be able to provide you with an estimated time.
What monument materials are available?
Monuments are typically made of granite, marble or bronze. Granite is the most durable and the most commonly used material. However, other types of material can be used including slate, limestone, wood, iron, glass and other materials.
What is the difference between granite and marble?
Granite is an igneous rock and will show little to no change for hundreds of years.  Marble is a sedimentary stone and will break down faster than granite when exposed to the weather.
What monument shapes are available?
The most common monument shapes are flat, bevel, slant, upright and companion. Each of these shapes can come in a variety of sizes and designs. It is possible to order custom shaped monuments, such as a heart, angel, cross and so on.
How long will the monument last?
The longevity of cemetery monuments depends on two factors. First, it depends on the material used. Granite and bronze will last far longer than slate, wood, and other materials. The climate is the second factor that affects the longevity. Harsh climates that are very hot or cold will wear down the monument faster. Most monuments will last hundreds of years.
Who will install the monument?
Staff at the cemetery will sometimes install cemetery monuments; however, cemeteries do not always have the staff to do the installation. The company that you purchase the monument from will either do the installation or arrange for someone else to do it.
How much does a monument cost?
There are a number of factors that will impact the cost of the monument. The monument material, size, finish, shape, inscription and other customizations will affect the price.
There are numerous cemetery monuments available to create a permanent memorial for your loved one. Before purchasing a monument there are a number of questions that you should ask. The list above will provide you with the basic information required to purchase a monument. For more detailed information, read our other monument articles listed below.