As screens become more and more central to our children's daily lives, a literature review by a team at the University of British Columbia on children's sleep hygiene updates the recommendations on the matter. The researchers analyzed data from 44 studies conducted in 16 countries, covering 300,000 children and adolescents, divided into 4 age groups, infants and toddlers (4 months to 2 years), children aged preschool (3-5 years old), school-aged children (6-12 years old) and adolescents (13-18 years old). On this basis, they established a number of findings. Let's get started to read my new writeup about cell phone parental control app; children's screen and sleep- an update on recommendations.
Parental Control App
Some practices that promote a good quality of sleep in children are quite well respected, including bedtime, the ritual of the evening story, sleeping in a bedroom and giving the opportunity to the child to fall asleep and/or go back to sleep alone if he wakes up in the middle of the night.
The teenagers with the best quality of sleep are those whose parents have set strict rules on the exposure to screens before going to bed - as it harms the duration of sleep, but this harmful practice tends to be reduced;
The link between the regularity of dinner hours and the regularity of bedtime is confirmed
Two studies confirm the correlation between too short a period of sleep for school-age children and adolescents, too much commuting time and the amount of homework to do at night.
It should also be remembered that the American Academy of Sleep Medicine recommends how long to sleep, according to the age of the child are as follows:
Given the impact of sleep quality on children's learning and cognitive development, the authors of the study even recommend parents to investigate the reasons that keep kids awake. One of the reasons, according to experts in the tech devices used by them and for that, parents should make use of cell phone parental control app such as FamilyTime.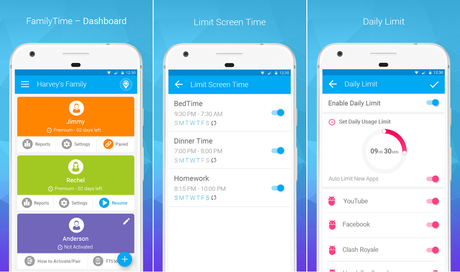 It not only lets you monitor your kids; device use, but also enables you to control their access. In addition to these features, apps like FamilyTime hand you over the options to track their location, See web usage, and remotely control the phone of your teen. Give this app a try for and see for yourself; you can either download it from your Google Play Store & iTunes.
You can reduce your kids' tech use with this app by remotely locking their phone from your Dashboard. Once you lock their phone, it will be disabled and you will receive an activation code, which has to be entered into the child's phone to work again. Another option provided by the app is scheduling auto-screen locks on their devices which mean you can automate device lock for any given time interval for as many days as you want. So, without going through the endless argument about taking their phone away at night or telling them not to use it, simply disable or lock it till the morning with just one touch!
Did you like this article?
1. Please share it with your network, we'd really appreciate it!
2. Would you like to write for Computer Geek Blog?
3. Keep subscribe to us and follow us on Facebook and Twitter for more tips & ideas about new technology.

Savita Singh is the author of computergeekblog, She has a superlative knowledge of Graphic and Web designing. She is a part time and award winning tech blogger who loves to write about latest technology, social media and web design. Her blog focuses on creative things of designing and tech, providing professional opinions on designing products, performances and a variety of business.