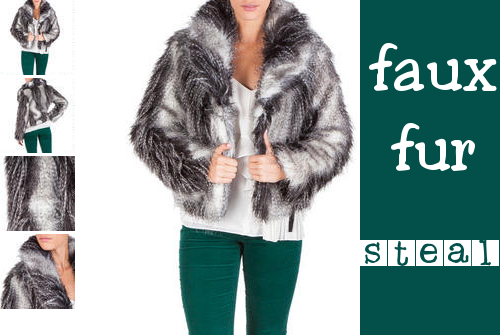 It's just so Kim Kardashian! I've been eyeing this faux fur jacket for awhile. It's finally marked down to 1/2 off but I'm still debating whether I should get it or not. I feel like I'm at a Las Vegas casino and all my money is on red – should I cash out or hope for a even bigger win. Geez, the pressure!
March = the best time to buy winter clothes. It's true. Bankrate.com mentioned in a recent article – "Things You Shouldn't  Buy In March" – that this month is an excellent time to rack up on clearance coats, boots and other winter-related items. It also goes into several items we should avoid as well. Definitely a good read if you're a fashionista on a budget like yours truly.
This coat looks like well-spent money. It definitely looks like something the Kardashians would wear as well as the Rhiannas or maybe even the Carters.
jessicasimpson.com describes it as:
"This faux-rabbit fur coat will get you through the winter in statement-making style. Its short cut and shawl collar create an irresistibly chic profile and an ideal layer for cooler days." 
This coat was originally $120. The price has been reduced to $60. It's made from faux rabbit fur. It's looks super cozy and really warm…and did I mention expensive.
So what do you guys think? Should I get it?