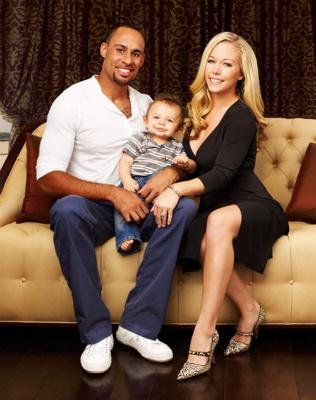 Kendra Wilkinson, Hank Baskett, their son. Photo courtesy of her Facebook page.HOLLYWOOD—Halloween festivities are in full gear with parties, trick-or-treating, visiting haunted attractions, carving jack-o'lanterns, ghost tours, watching horror films or taking a trip to Salem, Mass. Celebrities are just like us in the way that they love to take their children out for pumpkin picking. Kendra Wilkinson and Hank Baskett's son, Hank Jr., were out earlier this month in Calabasas, Calif. picking out their pumpkins. Other celebrities like Selena Gomez loved to pose with pumpkins and scarecrows in Moorpark, Calif. just to get a head start in the Halloween mood.

The world's largest pumpkins, however, are on display at the New York Botanical Garden until October 30. The largest pumpkin is enormous, weighing in at 1,818.5 pounds, breaking last year's record. The pumpkin was grown by Jim and Kelsey Bryson of Quebec, Canada. The other pumpkins include two from California, one grown by Leonardo Urena from Napa, Calif. weighing in at 1,704 pounds, and the other grown by Brant and Eleanor Bordsen from Marysville, Calif. weighing in at 1,693 pounds. The second largest went to Dave and Carol Stelts from Edinburg, Pa., weighing a hefty 1,807.5 pounds.

Still don't have a costume for Halloween? You can pay tribute to Lady Gaga with so many of her unique outfits to choose from such as her Yuyi the Mermaid outfit, a dress made out of Kermit the Frog dolls and the infamous meat dress. The amount of Gagas seem to be increasing each year. With so many of her iconic looks to choose from, you can turn your Halloween night into a true Monster Ball. With dressing up comes decorating your nails for Halloween. There are so many designs to choose from ranging from spooky skeleton manicures to bloody nail art.

If your literary blood lust wants to be satiated with a darker mystery this Halloween month, start with author Harlen Coben's "Shelter: A Mickey Bolitar Novel." The author has written more than 18 books and never seems to disappoint. In his latest novel that was released last month, he brings us Mickey Bolitar that was introduced in "Live Wire." Mickey is a bright high school student who has had a horrific year, having witnessed his father's death and dealt with his mother's addiction. Mickey was forced to live with his uncle Myron, and when he started school, he met a beautiful girl named Ashley. He later begins to question his father's death and uncovers a conspiracy. While Harlan has received mixed reviews on "Shelter," his writing moves along and has twists and turns that keep the reader hooked. Mystery lovers will definitely enjoy.

Rose's Scoop: Was it really being caught up in the moment when Jennifer Lopez broke down in tears at the Mohegan Sun in Connecticut last week? It has been reported that J.Lo caught a glimpse of her mom in the audience and that's the reason she cried.

Happy Halloween to all!