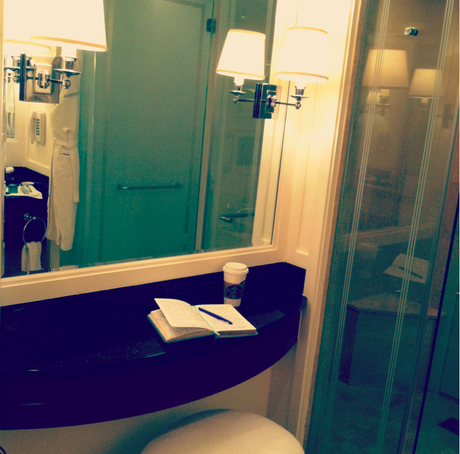 We took a fabulous trip to Chicago last week to celebrate my new job which I start on Tuesday!  Staying at the Peninsula, shopping on Michigan Avenue and eating great food was a great way to pause and have fun before a new chapter in my life begins.
Illinois charges sales tax on clothing, so I didn't buy too much.  I just love walking through the stores, they are usually a brand's flagship store, meaning they carry exclusive merchandise and are decorated fabulously.
Some of my favorite stores on Michigan Avenue are: Van Cleef & Arpels, Tiffany & Co., Nordstrom, Zara, All Saints, Anthropologie and Cole Haan
We ate at NOMI in the Park Hyatt.  Not nearly as good as I remembered it.  Frontera had yummy Mexican food with an overwhelming menu and a crabby waiter.
My husband saw the Cubs beat the White Sox with my cousin, while I spent time with my cousin's girlfriend and the kids.
I loved wandering the streets with my coffee in hand.  Besides looking at the fabulous fashion in the stores, I was definitely on the lookout for all of the amazing personal style of Chicago residents.  I think Chicago is one of the most fashionable places.  Here is what I noticed:
Tons of flats.  The most popular were Tory Burch and Cole Haan
Long necklaces
Large leather totes: Gucci, Tory Burch and Louis Vuitton
Skinny jeans with loose tops
Simple classic fashion