First of I want to thank you all for your words of encouragement as I explore a new world… my kitchen. Ok, I'm really not that bad in there but I can see myself having a blast learning how to actually make some things I've only been able to get a restaurant… or my mom's. I would always love to thank the one and only Charlaine Harris, for giving us Eric, Sookie, and this recipe she contributed to the Sookie Stackhouse Companion.
Mmmm… Meatloaf.
I choose "Michelle's Favorite Meatloaf" for my second foray into the kitchen for 2 reasons; it had 4 listed ingredients and it would mean I would have dinner ready already after work. It's technically listed in the SSC in the Lunch section, but in my opinion it can be eaten at dinnertime… like breakfast for dinner. After picking up the 4 listed ingredients (1 lb of ground beef, Italian style bread, crumbs, eggs… though I only used 1, and parmesan cheese), I mixed all the ingredients together by hand. Literally. Raw egg with raw meat = very unique texture.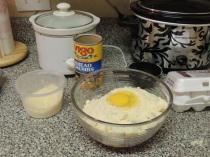 Once all the ingredients were combined, I painstakingly shaped int into a small loaf in a pan… coated with a non stick spray thingy of course. This was quickly put into my oven for 70 minu-… wait a minute, there is a tip to take out 20 minutes before its done cooking to glaze with my choice of tomato sauce. Good thing I had some jarred on my shelf

. I was set and BAMN, the meatloaf cooked for the allotted time and I was ready to taste.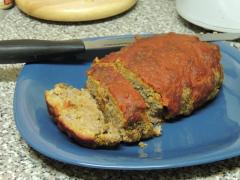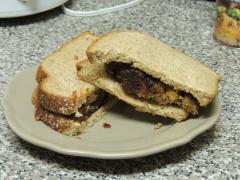 I decided to serve it to myself as a meatloaf sandwich… it just sounded really tasty. Plus I was craving the bread. It was good. I would never have thought to have used parmesan cheese, though I may want to try it with a fresher grated type vs the dry version. What do you think?
This makes me 2 complete and 30 more to go. I wonder what I should try next