This is the weekend edition of TheMarioBlog and will be updated as necessary.  The next blog post is Monday, March 26
TAKEAWAY: Newspapers have always fascinated artists from Picasso to Warhol, and they continue to do so, as an exhibit that just opened in Berlin shows us ALSO: The iPad and long form journalism as I prepare for a weekend conference in Norway.
We all love newspapers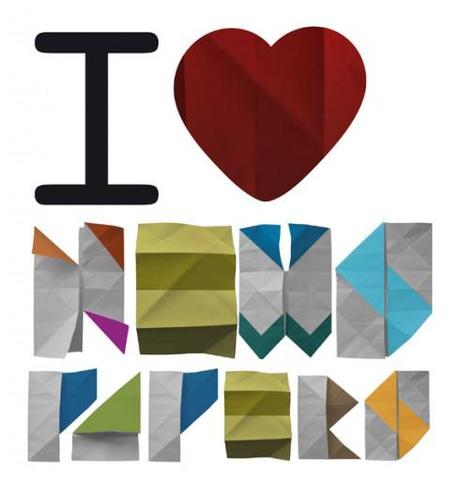 I
llustration by Massimo Gentile, Il Secolo

XIX

, Genoa, Italy

What a better way to start what is a weekend of celebrating newspapers than with this beautiful poster from Massimo Gentile, design director of Il Secolo XIX in Genoa, Italy.  Massimo follows a disciplined approach to creating this type of artwork.  He writes me that this year he has decided to complete 365 of these type and image compositions.  "It requires discipline, like learning to play the piano," he writes me. "For me, it is also good fun to do this, as I love typography and illustration."  Indeed, Massimo, and thanks for sharing this with the rest of us.  I am very proud of the work I have done with Massimo, first in Brazil's Folha de Sao Paulo, and more recently at Il Secolo.  Massimo is one of the most talented design directors out there, always working closely with the editors to design pages that are true examples of visual storytelling.
This latest piece of art from Massimo is one we all would like to turn into a poster to hang in our office. Give that a thought, Massimo.
A conference in Norway
As part of the celebration of newspapers this weekend, I will speak to a group of investigative reporters in Norway.  It is a gathering of journalists who specialize in those type of long form journalism reports that are such an important part of newspapers that want to make a difference.  The SKUP-conference, also referred to as Nordic Days, is promoted as "a worthy celebration of the best of Norwegian journalism and a forum for discussion on issues as diverse as the immense task of trying to assess the mass of leaked information from WikiLeaks and the ongoing dilemma of how to interpret the claim and counter claim of the conflict between Israel and the Palestinians."
The conference takes place in the historic town of Tønsberg, generally regarded as the oldest town in Norway, and my participation is in a session titled Tablets are Hot (the name provided by the conference organizers).  But, of course, tablets are, indeed , hot, no question about that.  And the journalists gathered at the SKUP conference are quiet interested in what the tablet has to offer them, especially in whatever information they can get on the fate of long form journalism—-the bread and butter of the investigative reporter, whose pieces tend to be lenghty.
My presentation: Long form journalism in the tablet
I have done a tremendous amount of preparation for this Saturday presentation at SKUP. In the process, I have reviewed many sources on the subject of whether the iPad and tablets generally provide users with a more convenient platform in which to indulge in longer texts.
This has been a hot topic as I write my digital book, The iPad Design Lab: Storytelling in the Age of the iPad, and here is what I find out about the subject:
1. Engagement statistics for the iPad look promising for long-form content.  Nielsen research found that iPad owners spend three times as much per session as they do on the iPhone. Long-form, high engagement content fits the medium better than smartphone style "snacking" on content 
2. More than six out of 10 polled iPad owners spend more than an hour a day on their iPad, accessing the device most frequently while at home ― suggesting they use it more for a lean-back experience rather than quick, on-the-go entertainment, according to research from the Reynolds Institute of Journalism, University of Missouri
This research is encouraging for those involved in long form journalism. It is a winning combination if one has deep immersion, high resolution images, and good storytelling in a digital format.
If, as many focus groups and individual studies show, the tablet is one of the so called "lean back" platforms, used when the readers are relaxed and ready for down time, should this not be conducive to long form reading?
The other view
But, do we know for sure that the tablet guarantees deep immersion that favors long form journalism?  We don't have a sure answer to that just yet.  It is our hope that the new EyeTrack for iPad study that is currently taking place at The Poynter Institute for Media Studies, and of which I am honored to be a part, will provide some reliable answers.
Craig Will, a cognitive psychologist/designer, with whom I have established dialog for material in my book, views engagement in the tablet from a different viewpoint. 
"More than lean forward or lean back, there is what I call 'engagement style.' Readers that are
actually reading a story have a different engagement style than readers that are browsing the Web," Craig writes me via email.
"I would further suggest that a user browsing the Web on a PC be regarded as having a high activity engagement style. A High activity style is one of switching tasks frequently. This style is associated with relatively low sustained attention," he adds.
"A user reading a print newspaper, in contrast, would be regarded as having a high absorption engagement style, one of concentrated and long-term sustained attention," he says.
I have come across others who agree with Craig, claiming that the tablet packages in one carry-around-gadget everything
one needs for the fulfillment of most communication activities from video to gaming to record keeping, scheduling, shopping and most other entertainment and information requirements.
So, how can I be truly engaged and concentrated when I am tempted by all the other "goodies" tucked away in that tablet: should I turn to Facebook now that I was prompted about a new message there, and how about the news alert about my team scoring a goal.
These are questions for which we do not have ready made answers today. Not yet.  In a sense, and in an ironic twist, all the possibilities that the tablet offer may be also the enemy of deep concentration while using the tablet, where one can stimulate almost all the senses.
Content is the key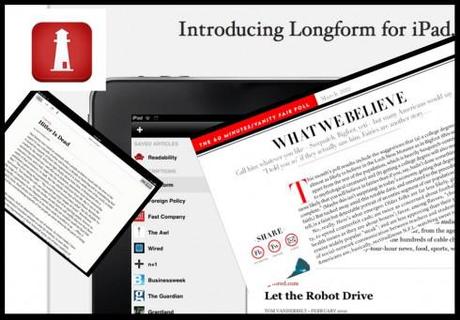 There is an app devoted to long pieces, called Longform
At the expense of repeating myself, I may add that the ultimate test of engagement, deep immersion, concentration and whatever other phrase we wish to use here, and whether leaning forward or leaning back, it is the story that seduces us into total absorption.
First we are seduced by interest, then we are kept by how the story moves, an area in which writing style, content organization and visual presentation play key roles.
It was the same when all we had was the printed newspaper for the seduction of the reader: headline, story, visuals.  And we would also have distractions there—-a phone ringing, a dog barking, a child calling us.
My message to the SKUP conference participants will be based on gut feeling: I do believe the tablet invites and facilitates long form journalism.
There is even an app called just that, longform, and it is text driven, a curated sampling of long pieces from various periodicals. I like it. I read it, and I download and save the pieces for my down time.
More to come in this subject in the weeks ahead.
Art and the press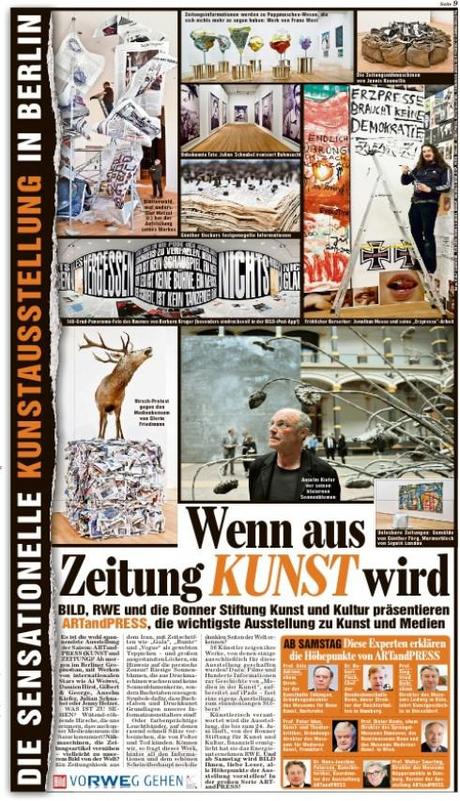 This page from Thursday's Bild promoting the Art and the Press exhibit in Berlin, of which it is a part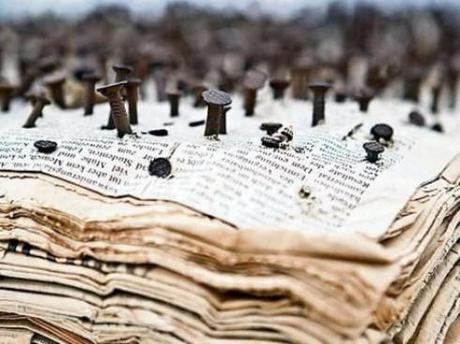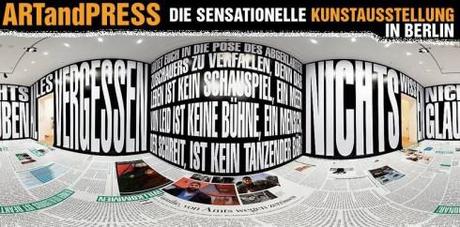 Images from the Art and the Press exhibit in Berlin
Artists and newspapers. A mutual fascination that includes such art geniuses as Picasso and Warhol.  They were inspired by the medium of the newspaper.  And, of course, it makes sense.
Artists always look at their surroundings for inspiration.  The realists would paint fruit bowls, pitchers of wine, the cat perched on the sofa, or the tree with the colorful flowers.  Newspapers are part of this realistic landscape, and one sees them folded on a kitchen table sometimes, or as the prop in a 19th century painting, while a subject reads the newspaper in a French cafe.
An exhibit that opened March 23 in Berlin, and runs through June 24, celebrates the art of the newspaper.  I am hoping to catch it.
For information in English, go here: http://www.visitberlin.de/en/event/art-and-press
If you go
Where: Martin-Gropius-Bau
Address: Niederkirchnerstr. 7, 10963 Berlin(Friedrichshain-Kreuzberg)
Admission price: Discounted: 5 euros, Normal: 9 euros
Hours: Monday 10:00-19:00; Closed on Tuesdays; Wed. thru Sunday 10:00-19:00
Duration  23.03.2012 until 24.06.2012
TheMarioBlog post #977