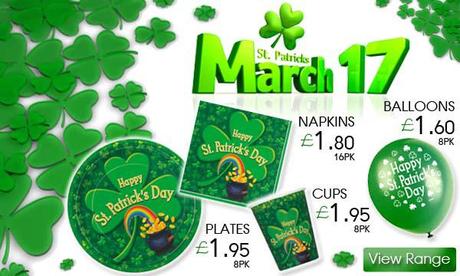 St Patrick's Day is coming up, and we're gearing up with a whole range of green and Irish-themed goodies. St Patrick's Day kicks off on March 17th, with most of the pubs bringing in a traditional Irish band and filling up on Guinness. But for families and those who don't necessarily enjoy the pub, a St Patrick's party is a simple and fun way to celebrate (even if you're not Irish!)
We've got a huge range of products you can choose from to decorate your St Patrick's Day party. Fill the room with some of our green balloons, hand out plates of food tinted with green colouring on our St Patrick's Day plates, and hand out cups of Guinness or Baileys to everyone that arrives. 
If you're looking for recipe ideas, we quite like the options over on AllRecipes. Beef Stew with Ale is a must,  and the Soda Bread recipe is a great accompaniment. I'm a big fan of Bailey's Cupcakes too for a chocolatey  treat.
Oh and those Irish jigs? Head to Amazon and pick up a Irish music album.
How will you be celebrating St Patrick's Day?
Let us know via our FaceBook page