On Friday, it was M's birthday and it was the first time we were able to celebrate it together without being in a long distance relationship. I had been meticulously planning all week so M would have the best day! 
However, N didi and I thought it would be fun to stay up till midnight and wish him with a cake. But as I am always the person running around and fussing trying to tidy up, this is exactly what I was doing ten minutes before midnight. I have no idea why I felt the need to carry a chair out of my room – but I did. And as I was carrying the chair it fell in two pieces and the heavy steel stand of the chair fell off and onto my foot.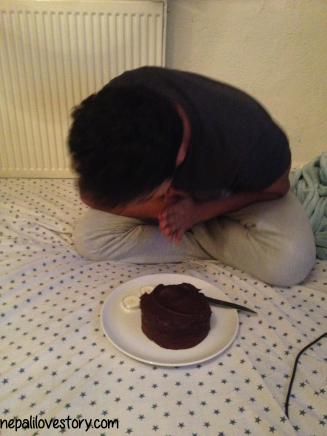 I still managed to hobble to give him his cake!
- M and his birthday wishes
So this is how we spent the morning of M's birthday – waiting in A&E. We where there for over an hour before being told that it would be up to 3-4 hours extra waiting to be seen. Instead, I hobbled out of the hospital and vowed to treat my foot at home so we could celebrate the rest of M's birthday as planned!
I took M to Covent Garden and wouldn't tell him where we were going when in fact we were going to pick up the Timberland boots I had reserved for him. He thought we were heading to a museum so I didn't correct him. He was so confused as I dragged him into the shop and that look suddenly changed to excitement as the shop assistant brought out the boots. I was so happy he loved the boots so much and when he put them on he was suddenly a lot taller than me than normal – so I joked to him that made me love the boots even more!
We spent the rest of the day meeting with N didi, going to the cinema and then out for a meal. I am so happy that we spent his birthday together and I could treat him to a very special day filled with gifts, cake, surprises and friends. I have always been lucky and had my birthday celebrated ever since I was a child. Previously, in Nepal birthday's have not been that much of a special occasion. But that seems to be slowly changing.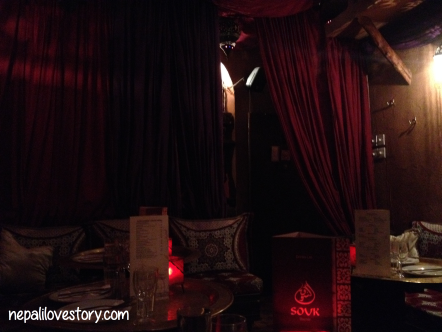 The restaurant!
Although last year was equally a special day, I felt sad that I could not celebrate with him in person. Nevertheless, I sent him some gifts and a birthday cake to his house in Nepal. He sent me some photos of them sharing the cake with each other and it was special to be part of his day in some small way. But this year I knew I was truly blessed to be able to spend time with him in person and I kept pinching myself as I couldn't believe I was so lucky!
As part of his gift, I also made him a handmade booklet of '100 reasons why I love you'. I found the printable online on Dating Divas and it gave such a thoughtful edge to his day. Why don't you try it for yourself here, there are also plenty of amazing other printables and ideas – especially for those of you in a long distance relationship!