With the last day of Tihar today, the Nepali celebration is coming to a close. It has been a very busy week but it was lovely to spend my first Tihar with M now he is back in London!
Tihar celebrations officially started on Tuesday 21st October where Nepalis honour the crow and sweets and offerings are normally left on the roof. On Wednesday was the day to honour dogs. There was some very lovely celebrations in Nepal of the police putting tika on the dogs. Although this day is not one of my favourite days as I really do not like dogs – they scare the life out of me!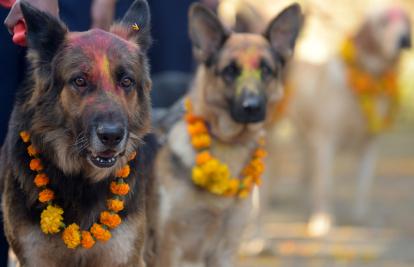 Source: Google Images
As I am living with M's friend, N didi, we did not really celebrate any of these auspicious days in Tihar until Thursday which is the main day of Laxmi Puja. In Laxmi Puja the house is lit up with candles to welcome in Goddess Laxmi and bring in prosperity to the house. As N didi and I came in very late in the evening we cooked some nice food and lit candles in the puja area and M even managed to pop round for some dinner later on. Hopefully, next year we will be able to recreate Laxmi's foosteps and make rangoli outside.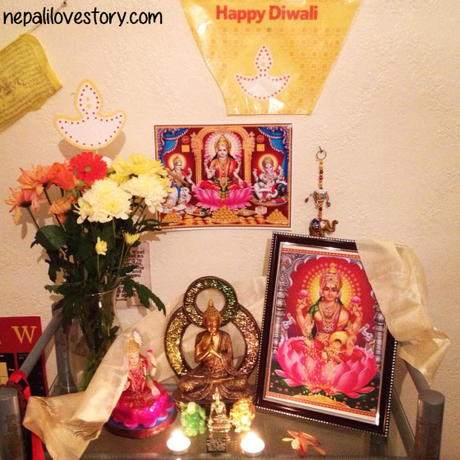 Celebrating Laxmi Puja in our puja area at home
On Laxmi Puja it is also the day to worship the cow, which is a very holy animal in Nepal. I was also able to cut off my Janai Purnima thread which I had been looking forward to doing for months! My wrists are now string free which is a lovely feeling again! Traditionally, in Nepal, when you take off your thread you are supposed to tie this onto the tail of a cow. Seeing as there were not any cows that we could tie a string on in Central London, we decided to give this a miss. The next day, which was Friday this year, is different depending on which specific culture you are from in Nepal. Many celebrate the oxon whilst others celebrate a mountain.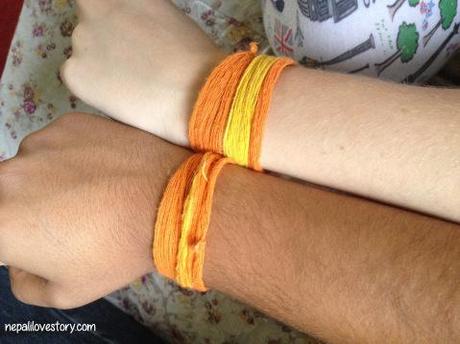 M and I modelling our threads on different arms!
Then, the final day is Bhai Tika, the auspicious day celebrating the love and bond between brothers and sisters. Bhai Tika is actually today and marks the end of the Tihar festival. M has gone to visit his sisters where they will do another puja and exchange tika and gifts.
The Bhai Tika puja consists of the sister putting out offerings in front of the brother and then circling him dropping water around which creates a ring of purity. This is then repeated with oil which cannot be evaporated or easily gotten rid of which is meant to symbolise a cementing of this ring. The sister puts on tika onto her brothers head and the brother returns the favour. The sister also gives the brother a flower garland with flowers that last for some months which is meant to be representative of the sister's prayers.
This Bhai Tika I was a little sad that I would not be in Nepal to partake in the puja with my dai. I am hoping in some years I will be able to enjoy Bhai Tika taking place.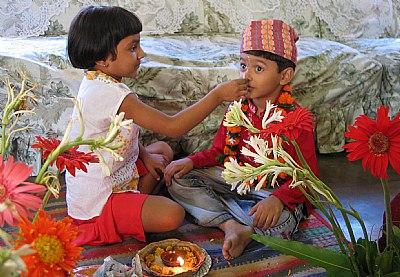 Source: Google Images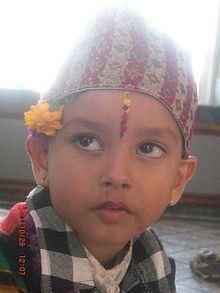 Bhai Tika has the most beautiful Tika Source: Google Images
Although our Tihar was very rushed and busy, I was happy that I managed to celebrate some of the days and that M was in London this year. We were also lucky to partake in some Diwali festivities some weeks before Tihar. M and I got the change to visit Diwali in Trafalgar Square, although it was only for half an hour, it was still fun to see the amount of British Hindus that came out to celebrate. We were also given the chance to perform at a Diwali Dinner where we danced!
I hope everyone else had a very beautiful Tihar/Diwali and they will remain blessed, prosperous and happy.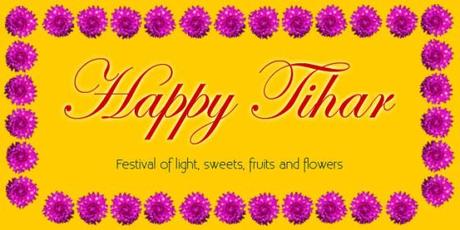 Readers – How do you celebrate Tihar/Diwali? Especially if you are living abroad and do not get the time of work?