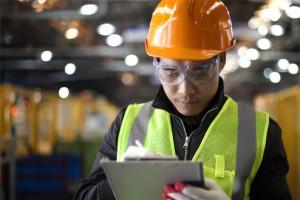 As we celebrate World Day for Safety and Health at Work on April 28, one U.S. statistic stands out: The fatal injury rate for the warehousing industry is higher than the national average for all industries, according to the Occupational Safety and Health Administration (OSHA).
More than 145,000 people work in over 7,000 warehouses throughout the U.S., and the hazards they encounter are many, OSHA notes in its Warehousing Worker Safety Guide.
OSHA also says the following are the most prevalent potential hazards for workers in warehousing:
Unsafe use of forklifts;
Improper stacking of products;
Failure to use proper personal protective equipment;
Failure to follow proper lockout/tagout procedures;
Inadequate fire safety provisions; and
Repetitive motion injuries.
There is a way to lessen the potential injuries and citations that can result from improper attention to safety procedures, as well as address the unsafe use and maintenance of warehouse equipment on a recurring basis. And it's less complicated than you might think. Instill a "preparedness" mindset in your warehouse team and you take the safety training you have done with them to the highest level.
Creating the "Preparedness" Mindset
Every shift, every day you have an opportunity to keep safety at the forefront of your team's awareness. This ensures that the safety training they have received is constantly being put into practice and reinforced.
We begin each shift with a safety reminder and message centered on either an incident or near miss that occurred within the industry as a whole, or within our 35 million square feet of warehouse space. We are always concerned with the number of days safe and how many near misses we have.
In discussing safety issues, we first cover the incident or potential incident we are addressing. Then we cover ways to be extra vigilant so it doesn't happen. These discussions are reinforced with weekly and monthly messages addressing safety continually.
Combat Complacency Every Day
We all know that when we do something every day of our life, again and again, we tend to forget the nuances of doing that activity. We become complacent about it and tend not to think about the actual activity itself. That's when mistakes occur.
In a warehouse environment, you can do something right 10,000 times, but all it takes is one flaw in the process, one time - and your team is at risk, or injured.
If you have a culture of awareness of how important it is to do each task right every time, plus emphasize building good work habits, you have the best chance of discouraging harmful complacency.
We use incentives and recognition to continually reward individuals and teams who show attention to the safety details of their work. If people are continually recognized for doing something well, the idea of how important the task is remains fresh in everyone's mind.
Remember: Your Safety Record is Important to Customers
As a supply chain services provider, we know how important our safety record is to our customers. In fact, it's the number one expectation they have of us: If our safety operations are at risk, so is their business.
Having the best warehouse safety record possible not only decreases the possibility of injury and disruption, it also increases your competitive edge in a highly-competitive marketplace.
Click here to access OSHA's complete warehousing worker safety guide.
Authored by Darin Cooprider
Darin Cooprider is Vice President and General Manager, Consumer Packaged Goods at Ryder System, Inc. With more than 25 years of experience in food manufacturing, big box retail, strategy consulting and 3PL services, Darin has played an active role in developing and executing strategies to improve service, reduce costs and increase reliability across numerous industry segments.