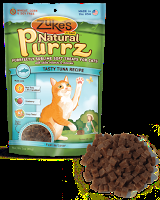 When you're making New Year's goals to encourage healthier eating habits for your family, I encourage you not to forget your pets, too! Cats and dogs can also suffer the ill effects of unhealthy food and overeating, and it's just as important to take a good look at what they're eating as you do for yourself and your family members. A great place to start is at Zuke's where you can get healthy, natural and nutritious snacks for your pets.
We have two adorable five-year-old cats, Jack and Bella, and we want them to be around for a very long time. Fortunately, Zuke's carries two snack brands for cats: Zuke's G-Zees and Cat Natural Purrz.
Zuke's G-Zees come in Savory Salmon Recipe and Tasty Turkey Recipe. The "G" in the name means that it is grain-free and includes glucosamine. Every bite is packed with nutritious turkey or salmon, omega-rich fish oil, and glucosamine and cranberries to help support joint and urinary tract health.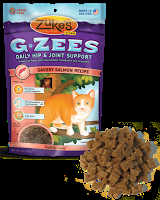 Zuke's Cat Natural Purrz come in Tasty Tuna Recipe, Savory Salmon Recipe, and Tender Chicken Recipe. (My cats' favorites are the Tuna and Salmon. They're Florida cats and love their fish!) These soft treats are packed with USDA chicken, salmon or tuna, plus whole-food sources of omega 3 fish oil.
At Zuke's, they pledge that every ingredient in their pet foods is natural, purposeful, and of the highest quality. Their trail-tested recipes contain only ingredients that they would eat themselves. And each bite is free from fillers, by-products, and artificial colors and flavors.
We love that we're giving our cats high-quality, natural snacks from Zuke's. If you've got dogs, Zuke's has a large number of healthy options for them, too! Head over to Zukes.com today to learn more about their pet food. Find a store near you through Zuke's store locator at www.zukes.com/find-a-store. Zuke's products are available at retailers such as Pet Supermarket, PetSmart, Whole Foods Market, The Fresh Market and more.
Website: www.zukes.com
Facebook: facebook.com/zukespets
Twitter: twitter.com/zukespets
Instagram: instagram.com/zukespets
Pinterest: pinterest.com/zukespets

Disclosure: I received a complimentary product sample to facilitate my honest review. All opinions are 100% my own.