Elf Katie is at it again with her creative motifs and embroidery skills. This time, she's whipped up a special treat for anyone looking for an extra special St. Paddy's Day... or to celebrate Irish love anytime of the year!
Her latest creation is a green and white Dash RunAmoc featuring shamrock appliques on the sides with additional embroidered shamrock designs on the front vamp.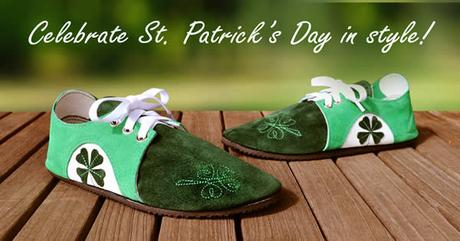 Do you wish you had your own pair of shamrock RunAmocs? If so, then you're in luck! We're now making and selling this shoe for a very limited number of customers. They'll be gone soon, so order today for delivery by March 17, 2016!
Related Posts:
Pumpkin Shoes for Harvest Season