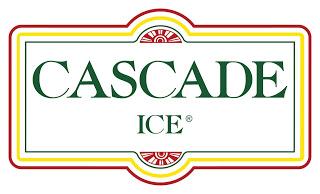 It's almost Cinco de Mayo! And Cascade Ice wants to help you celebrate with their skinny cocktail mixers and flavored sparkling waters! Their zero-calorie, sugar-free flavored sparking waters have no unhealthy "extras" such as sugar, carbs, caffeine, sodium or gluten. They are available in 21 delicious flavors, such as Strawberry Lemonade, Blueberry Watermelon and Orange Mango. And I love their line of Sparkling Mixers, such as the Margarita and the Cosmopolitan. My husband made a Margarita with the Cascade Ice Margarita Mixer, and he said it was excellent! Whether you like your drinks with or without alcohol, you can create a refreshing beverage with Cascade Ice's sparkling waters and mixers. Here are a few drink recipes for Cinco de Mayo from Cascade Ice!
Margarita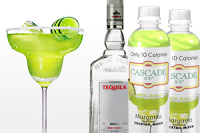 In a mixer, mix the juice of 2 lime wedges with 1 1/2 oz of Tequila. Add 8 oz of Cascade Ice Margarita Mixer. Shake or stir and pour contents into your favorite margarita glass with a salted rim. Garnish with a lime wheel for a festive touch!
Skinny Daiquiri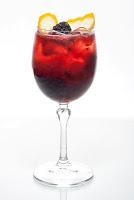 Not a fan of tequila? No problem! Try a delicious Skinny Daiquiri. To create this sweet treat, add 1 1/2 cups of ice and 1 1/2 cups frozen strawberries into your blender. Pour in 8 oz Cascade Ice Zero-Calorie Wild Berry Sparking Water and your choice of rum. Blend until smooth. Pour into a chilled glass and garnish with fresh fruit.
Coconut Chiller
Here's a non-alcoholic drink for a Coconut Chiller, or you can "alcoholize" it like I did by adding some rum. It's SO delicious!
8 oz. Cascade Ice Coconut Sparkling Water
4 maraschino cherries
1 1/2 oz. pineapple juice
Muddle cherries & fill 1/3 of a glass with pineapple juice. Fill the glass to the top with chilled zero-calorie Cascade Ice Coconut Water. Stir gently to mix the flavors. Serve chilled.
You can find Cascade Ice products in all 50 states at major retailers such as Walmart, Safeway, and Albertson's. Connect with Cascade Ice at:
Website
Facebook
Twitter
YouTube
Blog
Pinterest
Happy Cinco de Mayo!
Please drink responsibly.