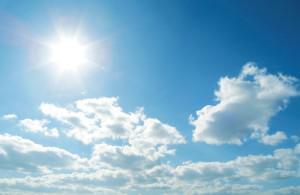 News from the Dutch weather offices this week hailed the spring of 2011 a close to breaking records for sunshine. With over 600 hours of sun shinning on Amsterdam since 1 March, this year's season is already the fourth sunniest ever.
If the city can get just 40 more hours of sunshine before week's end, this will be the sunniest spring in Amsterdam – ever!
For all anyone looking to soak up those record breaking rays, there is no shortage of terraces, canal cruises or parks to enjoy.
But there are a few extra special places to enjoy a cloudless sky. The newly opened Badbuiten, which literally means pool outside, is a great place to start.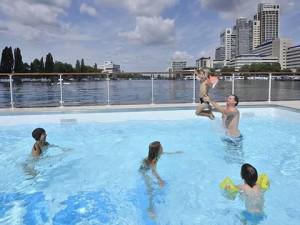 Moored on the Korte Ouderkerkerdijk, it is a floating pool with super views of the famous Amstel River. With two large sections, the Badbuiten is ideal for more experienced swimmers and children.
What's more, there are also daily activities ranging from swim lessons to pool games. And, there's even something for those not so keen to get wet – a terrace bar and grill serving drinks and a full menu of snacks and meals.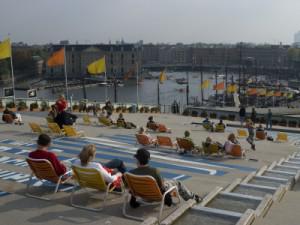 Another great sunshine spot is found in the Nemo science museum. Well, actually, on its roof!
Everyday starting in spring their rooftop is transformed into a sandy lounge with beach towels and umbrellas to keep the sunbathers comfortable. But these can't take away from the rooftop's greatest attraction – the spectacular panorama views of Amsterdam.
Sit back, relax, sip your drink and enjoy one of the most beautiful cities Europe at its best – in the glow of the sun!
© 2011, Amsterdam City Tours Blog. All rights reserved. On republishing any part of this post, you must provide a link back to this original post