This week I delivered 6 large-scale paintings from my Looking Up and Lotus series to display at Eco Art PDX in downtown Portland!
Eco PDX is an existing business that specializes in unique handmade furniture from salvaged and reclaimed wood. Now, they are expanding into an art gallery as well: Eco Art PDX. I'll be among the very first artists ever to show in this new gallery!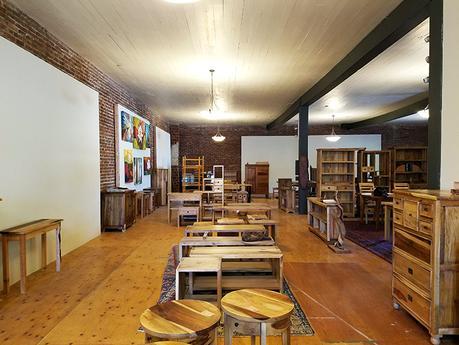 The space is beautiful: a huge, high-ceilinged warehouse with brick walls, onto which they've built gigantic display panels for artwork.
The handmade wooden furniture is really interesting–each piece with unique details–and fills the center of the space.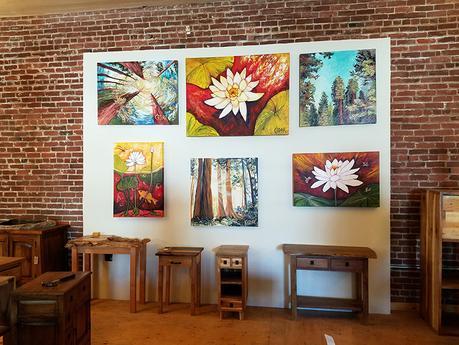 Here's my display panel. The titles of these large-scale paintings are, from left-right, top-bottom: Dance of the Redwoods, Golden Lotus, The Clearing, Dragonfly and Fish, Explorers, and Three Dragonflies. They range in price from $990 to $2,490.
I love how the most prominent colors in this arrangement alternate between red and teal, with pops of gold, green and white throughout.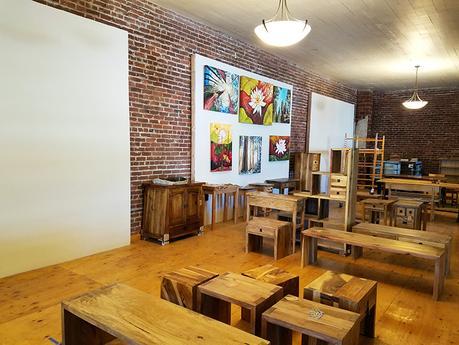 As I was the first of the gallery's new artists to deliver artwork to hang, in these pictures all of the other white wall panels are still blank, this one panel standing out as it's filled with my large, colorful paintings. The other panels will be filled over the next two weeks as all the artwork goes up.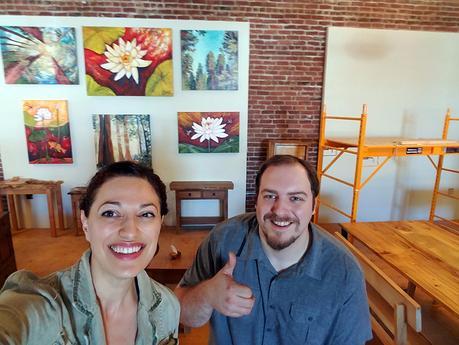 Here's me with Eco Art PDX's curator, Elliott Bennett, who contacted me a few months ago with the invitation to show here. It's always great to work with people who believe in the vision behind my art!
The gallery is not officially open until the weekend of October 1st and 2nd. All that weekend, they'll be hosting a big grand opening event.Mark your calendars: Saturday and Sunday October 1st & 2nd from 12-6pm. There will be beer, wine and nibbles. I believe I'm one of about ten local artists to be featured.
Address: 2289 N Interstate Avenue, Portland, OR 97227
---
And, Portland people, don't forget–if you're looking to enjoy a happening art event this weekend, I will have a few pieces (small framed works on paper) in this PDXOS group show at Basic Space Gallery tomorrow: