New to little Indiana? Subscribe for free to my RSS feed. Thanks for stopping by!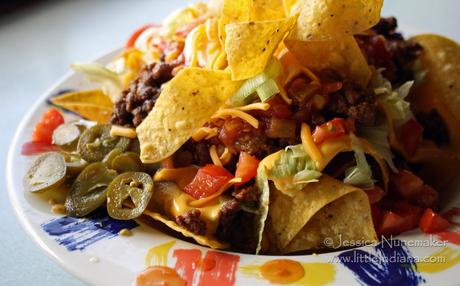 Cedar Lake, Indiana: Pier 74 Restaurant and Bar Beef Nachos
Cedar Lake, Indiana
Cedar Lake, Indiana Restaurant
Pier 74 is so hip. This small Indiana town restaurant is classy yet casual. Sit in comfort and watch the waves break on the bank. Totally relaxing.
Black ceiling paint and exposed ducts, are paired with a gorgeous handmade bar, stained glass chandeliers, and a flickering electric fireplace. My coolness level temporarily rose just while sitting there.
As nice as the inside may be, the food is the most important! Luckily, Pier 74 completely rocked it.
Pier 74 Food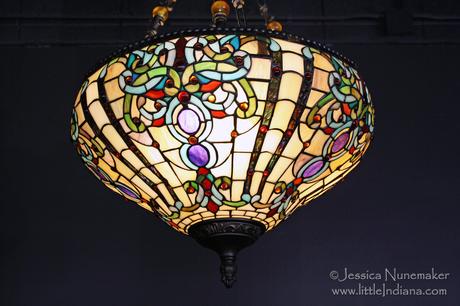 Cedar Lake, Indiana: Pier 74 Restaurant and Bar
We were hungry. Ravenous, even. We started with the Beef Nachos you see above.You'll need extra napkins for this one!
These Beef Nachos were beautiful. They were tasty. They were eaten very quickly.
Hubs and I battled over the last little cheesy bits. I then had to go wash my hands though even on the best of days I make a mess.
These were so worth it.
The Main Event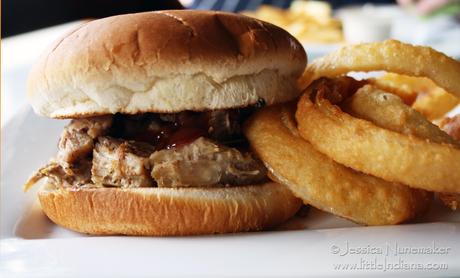 Cedar Lake, Indiana: Pier 74 Restaurant and Bar Pulled Pork Sandwich and Onion Rings
Hubs couldn't decide between the Stuffed Portobello Burger or the Sun-Dried Tomato and Chicken Wrap.
But, after overhearing that they had dessert, which included homemade Pumpkin Pie, he ordered the wrap to save room. Of course, that's before we saw the size of the Nachos!
I ordered the Pulled Pork Sandwich (done in-house) with Pier 74′s homemade Sweet BBQ Sauce on the side. Oh, and onion rings. I can't forget to mention those crispy beauts.
Everything, and I mean everything, was wonderful!
Swim on In to Pier 74
Okay, so it's not exactly swimming season, but you get the idea. This is one more Indiana mom and pop restaurant that you can't miss! Fresher than fresh, creative, and with great views of Cedar Lake, Pier 74 is a culinary delight!
See more  Pier 74 Restaurant and Bar images and other pictures in Indiana on my Flickr photostream.
Pier 74 Restaurant and Bar
7380 W 131st Place
Cedar Lake, Indiana 46303
219.374.7474Hours: Sunday 9 AM – 2 PM
Mon-Tue Closed
Wednesday – Thursday 11 AM – 8 PM
Friday – Saturday 11 AM – 9 PM
View Larger Map
little Indiana: Where to Stay, Play, and Eat in Small Towns in Indiana. Discovering Indiana's best small towns! Now get little Indiana on your Kindle.
New! Offering affordable online advertising for your small Indiana business! little Indiana Businesses is the online presence that you've been looking for.