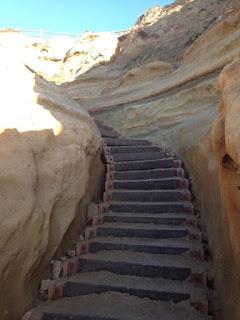 Stairs to the beach at Torrey Pines State Park

Hi friends,

This week in the Beyond the Basics/Treatment section of our

website

, we've posted an article about some ongoing promising immunological research in CLL with the agent CC-122. While much of the recent excitement, for very good reasons, has been about the new class of drugs that block the B-cell receptor such as ibrutinib and idelalisib, or the fresh approval of venetoclax that inhibits BCL-2 leading to programmed cell death, there is still a need for more and Celgene has led the way with a different and important approach, namely drugs that tweak our disrupted immune system such as lenalidomide and now CC-122. You can read my commentary and read about the research that is ongoing

here

. 

I suspect immune therapies will be needed to seal the deal for many of us. Now that research with lenalidomide in CLL is slowing down, trials with CC-122 may be part of our future.

The full article and the alert with news of some upcoming patient meetings is on the website.

Stay strong.

We are all in this together.

Brian


If you want a personal response, or just want to stay in touch, please email me at [email protected] I have no other way of contacting. Thanks. Stay strong. After all, we are all in this together. And please visit our website: http://cllsociety.org for the latest news and information.