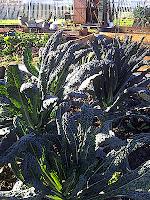 Today I managed to get down to the plot again as I need to get the paths sorted before the new season is upon us, I was taking a well-earned Tea break when my mind started wandering and I was thinking to myself "that Cavolo Nero needs using up before it becomes Percy food (Percy is My daughters Duch Rabbit) or even Hefty's and Hilda's mid-week special snack. When I came up with a great idea for it, so when I was finished up the plot for the day I grabbed myself a good bunch and headed home.
Cavolo Nero pesto with Walnuts
This is how I made it: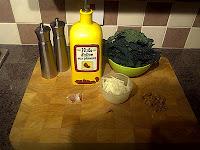 A good bunch of Cavolo Nero (5-6 large leaves)
2 Garlic cloves
5-6 walnut half's (toasted)
50g Parmesan Cheese (or supplement for Pecorino if Veggie)
Salt & pepper
Olive oil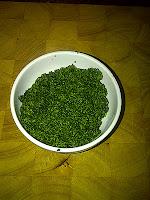 First I toasted my walnuts, and then put aside to cool. Then I blanched my Nero in boiling salted water for 40seconds no more then removed from heat and refreshed under cold water and squeezed all the water out. Then in a food processor I added the Nero and the walnuts and blitz until it was a course chop then added the garlic and parmesan then blitz until a smooth paste. Add the olive oil to create a smooth paste (about 2-3 tablespoons).
This can now be kept in the fridge for about 2-3 weeks until you need it. I simply cooked some pasta and tossed it through and added myself some protein (veggies need not)
I can confirm it was VERY tasty and what a different way to use your Cavalo Nero.