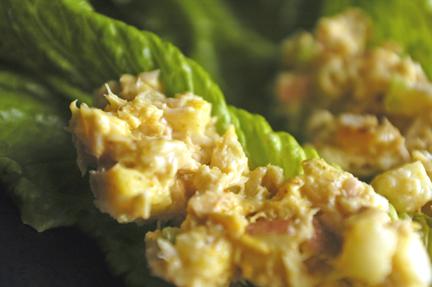 Curried Tuna Salad in Lettuce Wrap
Recipe at end of post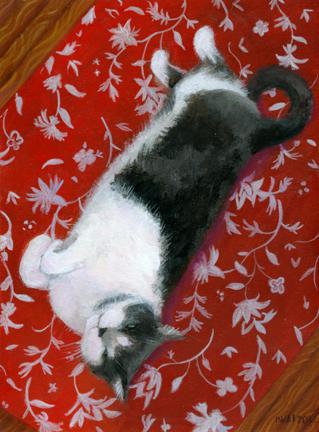 Lo-o-o-ve me.
I recently finished some commissioned cat portraits.  I love cats, and I love painting them.  It's so sad that I'm highly allergic to them, though, so we can't live with them (I've tried, believe me!)   So painting is the next best option!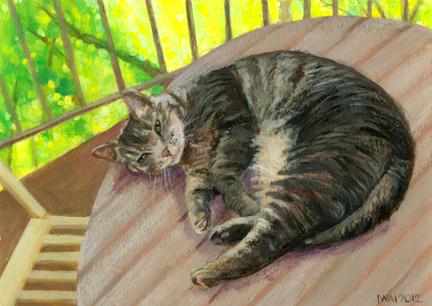 I often add cats to my book illustrations, even if they aren't mentioned in the text.  I just love their presence.  I usually put in cats I know.  The white one with the black tail below is "Taxi", my friend's beloved cat, whom I loved too.  He makes an appearance in my first illustrated book, Night Shift Daddy.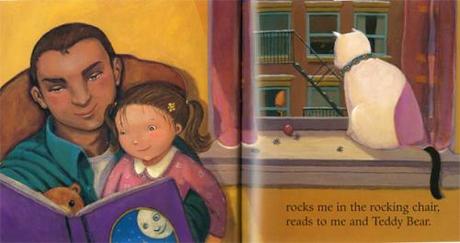 I even devoted a whole parallel narrative to Chanukah Lights Everywhere involving cats.  On each night of Chanukah, more cats appear.  It's fun to try and find them all.  Below is the 6th night, so hiding cats is getting tricky.  In the winter sometimes our street looks like this (minus all the cats, of course!) I won't ask you to find all six, because one of them is cut off — a white cat is on one of the rooftops.  There are three cats in the windows, one cat being walked by a woman, and another cat in a green cat carrier in the background.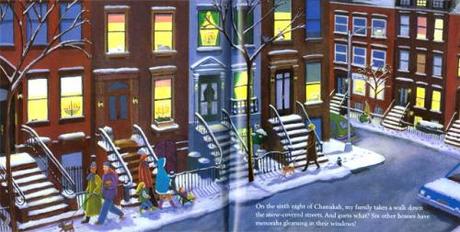 My husband always had cats before we got together.  I even tried to live with the last pair, Bogey and Misia, for five years, before we found good people to take care of them.
I think all those years of taking care of of cats has made it impossible for him to eat any kind of canned fish.  He can't help but to associate it with cat food.
I, on the other hand, am happy to eat canned tuna, sardines, salmon, etc.  Also, it's not like I eat it straight out of the can!  When you season everything it takes on a whole other dimension!
It's also so good for you, filled with protein, good fats, calcium…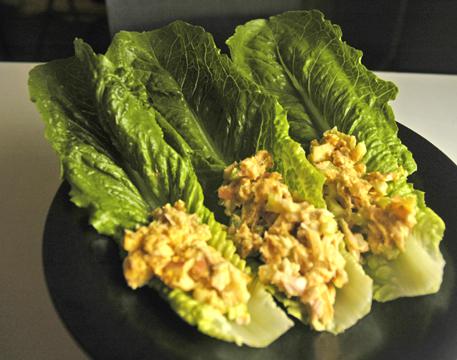 To eat, just roll the thin part of the leaf over and munch!
I made these Curried Tuna Lettuce Wraps for lunch today, and they were so good!  I love eating lettuce instead of bread in the summer because it's just so darn refreshing and delicious.  You can use iceberg or butter lettuce in place of romaine.  I love the flavor and texture of romaine lettuce though.  The saltiness of the  cashews and sweetness of the golden raisins and apple are a nice complement to the curried tuna which has a bit of a kick!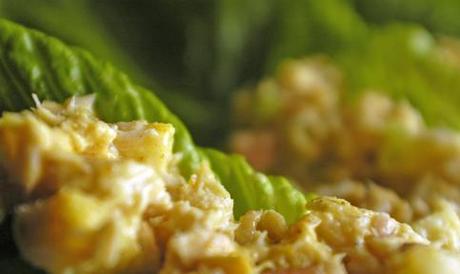 Curried Tuna Lettuce Wraps
1 can of environmentally safe tuna
1/2 stalk of celery, minced (about 1/4 cup)
1/4 Fuji apple, diced (about 1/2 cup)
1/2 tablespoon mayonnaise
1/4 cup plain yogurt
1 teaspoon Madras curry powder
kosher salt and pepper to taste
2 tablespoons chopped roasted salted cashews
2 tablespoons golden raisins
washed and dried Romaine or other crunchy lettuce leaves
1.  Drain canned tuna and transfer to a bowl.  Add remaining ingredients, except lettuce leaves and stir to combine.  Adjust seasonings to taste.
2.  Wrap tuna salad in lettuce leaves.  Eat!