This week's title of "Cats" made me think back to an early poem I wrote in 1965 " Epitaph to a Cat " - yet we'd never had a cat , only a dog. Where the idea came from I have no idea. So here to start us off is the said poem :-
                   Epitaph to a Cat
        Dear, dear Puss now you are gone
        I will miss your mewing and tuneless song,
        Your endless fun with a ball of string -
        Oh, Puss ! I'm going to miss your everything.
        The cute way you drank your milk,
        The day you tore my scarf of silk -
        Oh, Yes ! I scolded you I know.
        But dear, dear Puss I miss you so.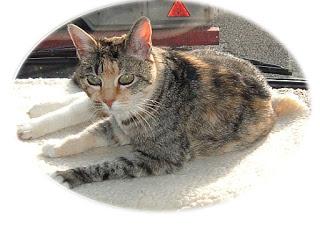 I consider myself a 'dog' person, having been brought up with a dog, then having a dog of my own for 13 years. So it comes as a surprise that I've had 2 cats , and taken care of a cat these past 25 years !
 When my first husband left my son wanted a cat and so "Baloo" came into my life - that was OK as she was really a Rottweiller in a cat skin ! When my son decided not to move with myself and second husband, but to go elsewhere - the cat couldn't go with him and so "Baloo" came with us ( much to the delight of my new husband who adored cats ). " Baloo" ruled him with an iron fist, biting him each day to assert her place of 'top cat', and yet they were inseparable. Many years later we moved to this area and " Baloo" settled into life in our motorhome whilst we looked for somewhere to live. So a new president was formed- she now came camping with us. Never making any attempt to leave the van, but content to sleep on the back seat. She lived to the ripe old age of 19 and I broke my heart having to take her to be put to sleep, because in her mature years she had relied on me to cuddle her as we rolled along in the van.
 Six ' cat free' months passed and my husband expressed a desire to have a cat again. This time " Lady " joined us as a rescue cat. Her age, history, name was unknown. She was timid, frightened when I sneezed ( she always was ! ), hated change around the home.....but loved the motorhome ! She was a well-travelled cat..many times round Scotland, fishing trips to lakes all over the north of England. I photographed and wrote of  her adventures for the rescue center newsletter. I took her walking on a lead and harness . " Lady " was soft and cuddly, loved our company and never strayed. When my husband died she took to sleeping beside me and I'd put my hand out and feel her closeness and soothe her , as she tended to have ' bad ' dreams. I got a static caravan in the Yorkshire Dales and she came with me, venturing out around the van and rushing in at anything that frightened her !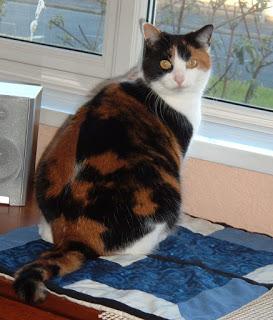 It was a great shock to me when she died beside me - - I thought she was having another bad dream and I put my hand out and stroked her telling her, "It's alright, it'll all be gone by the morning " . -- and it was . I woke at 4am and she was gone. One of the worst days of my life. My last link to my husband had gone. I buried her myself and broke my heart at every spadeful of soil that I turned over. I am weeping now as I tell you !
 Not long after, a cat started to come round to 'visit' me ... he still does. I contacted his owner ( to make sure that he had someone ). Every day he comes and has a little food and a cuddle. He lies and stares up into my face. But NO I lead too busy a life now to let another full time pet be part of it. When they depart they leave such a void..........
        LADY -
My eyes are aching, the tears are dry
I tell you this - I'm too tired to cry.
This day , for me, has been very hard
Such unexpected heartache - caught me off guard.
My best friend, the one I talked to is gone forever....
Email This
BlogThis!
Share to Twitter
Share to Facebook
Reactions: