China and Iraq, two countries with seemingly nothing in common. Except for the fact that they are both being heavily targeted by the hospitality industry, but in two different respects.
Many major hotel chains in the United States are implementing changes in an effort to cater to Chinese tourists coming into our country, while at the same time making headway into building properties in certain regions of Iraq as economic development continues to boom.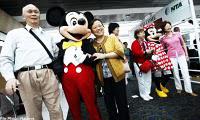 Chinese tourists. credit:chinatraveltrends.com
Just this week, both Hilton and Starwood introduced new programs that focus on the well-being of Chinese guests. Starwood's program, called "Starwood Personalized Travel," will offer specific services for Chinese travelers, such as in-room tea kettles, slippers and translation services. The hotel is also updating its menu to include fare from China.
Hilton'a program is called "Hilton Huanying"--which is the Chinese word for "welcome." Basically, every Hiton hotel that has this service will employ a front desk worker that speaks Mandarin, provide a Chinese television station, and offer a full Chinese breakfast that includes dim sum, congee (rice porridge) and fried dough fritters.
These initiatives prove that the Chinese are slowly taking over the world. I mean that in the best sense. Their country and their corporations are becoming incredibly influential in our world, and Chinese travelers are expected to have a big impact on the travel industry. It's a similar trend that happened a few years ago, when Japan became a major mover in the economy and hotels started featuring rice, dried seaweed and miso soup on menus. You cater to the people who are going to provide the most business--or more appropriately the biggest amount of revenue. In my opinion, I think it's a smart move, because it shows that Americans can adapt to another country becoming a big world power. When America grew into a international powerhouse, every country made sure to teach their kids English and employ people who could communicate to foreign tourists from the U.S. Now, we have to do the same thing and prove that we can be multicultural.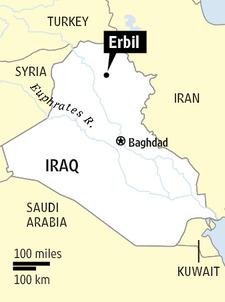 Erbil, Iraq. Credit: WSJ
In Iraq, both Marriott and Best Western plan to build hotels in the city of Erbil. The properties are on course to be the first U.S. hotel brands in the region, and other companies have expressed interests in moving there.The Erbil Marriott will have 200 rooms and four restaurants and lounges and will open in 2014. 
Many companies have been hesitant to enter the country due to civil unrest and perceptions of corruption in the corporate world. While there is still some question as to whether or not these locations will be successful--or safe--many in the travel industry believe that northern Iraq, near the border of Turkey and Syria, is much more stable and presents a great deal of potential.
I wish I could say that I would visit Iraq, but there is definitely a sense of uncertainty when it comes to traveling there, especially for Americans. Many countries in the Middle East have been affected by political upheaval this year, like Egypt and Lybia. Those events crippled their tourism businesses as many visitors fled for home or canceled trips, and big cruise companies dropped ports from voyages. I know that any tourism income Iraq had before the war has certainly disappeared, and it has been struggling to get back on its feet for a long time. I think the fact that hotels are starting to invest in property there is a promising sign that the economy is turning around and that business is starting to boom in Iraq. I certainly hope it gets to a point where people feel comfortable enough to go there, even with all the fighting and turmoil, which, God willing, will end soon.