Indian film industry completed 100 years earlier this year. I even did a post on it then, if you want to have a look. Obviously it was a pretty big deal for the industry and everyone involved in it. Among many other efforts to commemorate this moment, there was also a special movie made for this occasion. It brought four of the four of the contemporary filmmakers together. Each of them would make a half-hour short film showcasing the power of film and they were released together, sort of as an anthology film, together as Bombay Talkies(2013). I knew all about this and even remember being excited about it at the time of its release. But then somehow it dropped off my radar and I forgot all about it until, Courtney Small wrote about it here but I am glad I finally got around to it.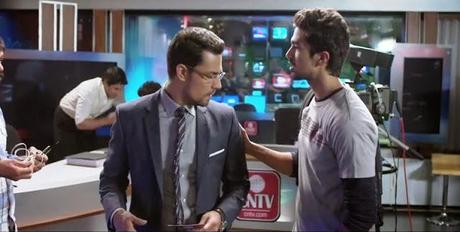 First of the four shorts is directed by Karan Johar. Johar, son of producer Yash Johar, made his directorial debut with Kuch Kuch Hota Hai(1998) and has been considered as one of the defining directors of his generation since. His short is about a gay man, Avinash, who falls in love with husband, Dev, of Assistant editor of the magazine he works for. I'll be very frank here – I CAN NOT stand Karan Johar for the life of me. So you can say my opinion is biased here but I have few problems with this. I've hated every single film he has made so even if I say this is his best work yet, that doesn't make for much of a compliment. His movies have a typical brand and I hate even those that fall in that brand despite him not directing them. These movies are too glossy, too uppity, completely disconnected with any kind of reality. The kind of things people say, the kind of things people do in them happen only in his movies.
I am not homophobic or at least I don't think I am. I have never actually tested my hypothesis. I don't have any problem with that aspect whereas I think what Johar wanted to say in this, he does it quite effectively. I just don't think it demonstrates the power of film in any way, which was the main objective of these films. Of the four shorts, I believe this is the one most loosely connected to the cinema. All it does is use old songs as the way Avinash and Dev connect with each other. I could've used Chinese food or some political leader instead of those songs and all I'll have to change is half on one conversation and 1 dialog of another. Again, I am not saying this is a bad film. I quite like it for what it is and I would stand by it if it was a stand-alone feature. I am just saying this does not fit in the canon of movies showcasing power of cinema and the only reason it got through is because Karan Johar made it. There, I said it!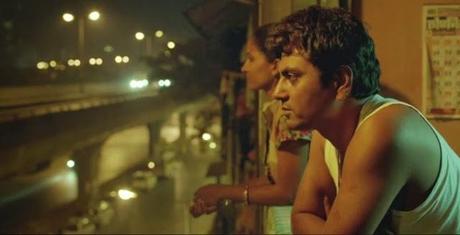 Second one and by far the most wonderful of the four is directed by Dibankar Banerjee. Banerjee debuted with wonderful Khosla ka Ghosla!(2006)also deirected last year's Shanghai(2012), an adaptation of

 

Costa-Gavras' Z(1969). Purandar, played brilliantly by the brightest rising star of the industry in the recent years, Nawazuddin Siddiqui, is an ordinary looking man, leaving an ordinary life in small house with his wife and sick daughter. He is actually a very talented actor who struggles to find any job, even to make the ends meet. Apparently he never got his due, despite being a talented actor, because he never worked hard for it. He always wanted everything to fall it on his lap than work his way to it. Biggest joy of his otherwise ordinary life is telling stories of different films as bed-time stories to his daughter but he is running out of them. And then one day, completely off chance, he gets to play an extra in an actual film.
I am not sure if this plot does any justice to this wonderful short because the way it makes you feel is so much more important to me than anything else. After playing that part, Purandar runs home to tell everything about it and much more to his daughter and look on his face while telling that story to his daughter was so wonderful, so blissful that he has a new story for his daughter that it will melt your heart. Banerjee also gets many other small things just right. Purandar's pet Emu which he names Anjali, like that animal is his daughter and also gives similar treatment, his drama teacher that appears from his conscientiousness just to spite him, his reaction to it, small bits he adds to complete throwaway role. Everything in it adds something more wonderful to it, without ever loosing its poignancy. Subtle, soft moments that can put a smile on your face as well as tears in your eyes are always my weak point and this short certainly offered some such moments.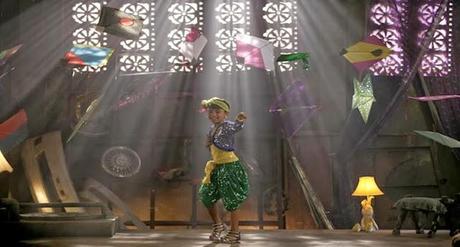 Third in line was a short by Zoya Akhtar, sort of Sofia Coppola of Bollywood. Zoya Akhtar, daughter of legendary writer and lyricist Javed Akhtar who co-wrote milestone movies like Sholay(1975) and Deewaar(1975), made her debut in 2009 with Luck By Chance(2009). She also wrote the screenplay for last year's Talaash(2012). Even though I will not call any of her films as my favourites, I don't think she has made a bad film yet. Her short here is about a boy, Vicky, who wants to be a dancer when he grows up whereas his father wants him to play football, be strong and physical; basically be a typical, good boy. It talks about innocent childhood dreams and fantasies, about parents' need to be one of the pack, be conventional. Akhtar's story tackles a different subject or at least something that should definitely be brought in front for discussion in traditional society like India and I would say she did good enough job with it. But similar to Karan Johar's segment, I had some problems with it despite everything good about it.
First of all, I am not sure why but I didn't feel anything for the kid.
It might be because I was that sort of kid Vicky's father wanted him to be but

I was rather annoyed by him. Sure his father, played rather brilliantly by Ranvir Shaury, made me feel sorry for him a couple of times but that was sort of pity than anything else. His older sister was someone I would like to see a movie of. As a character she might not be as interesting but that little girl playing her part certainly made it so. And once again, I am not exactly sure how to justify this film celebrating 100 years of Indian cinema. Sure, Vicky gets this whole idea of being a dancer from an item number in Hindi film and he sort of idolizes one Bollywood actress and it is a way of demonstrating how cinema can affect our lives but I guess I was looking for something deeper. Considering all this, I would probably say this to be my least favorite of the four.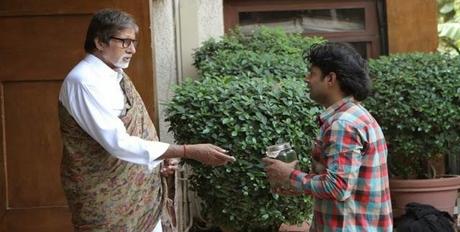 Last of the four is directed by Anurag Kashyap. It is very hard to point to one thing as start of his career because this guy has been all over in the last 15-20 years. First thing I remember his name from is as a writer of Satya(1998). However in the last few years by starting producing different films, he has become quite a big deal. He has done handful films as a director as well and one people will probably remember the most is last year's Gangs of Wasseypur(2012). His short is a story of a man whose father is ill and may die soon. His last wish is for his son to meet legendary Bollywood actor Amitabh Bachchan and share a murabba with him. Kashyap, whose films have always been gritty and grim, shows a lot of heart in this film and is probably the funniest of all four. I loved its ending!

Not to beat the dead horse again but what I said above about Karan Johar's short, I know can be applied to Kashyap's short here as well. But the difference here is he integrates that fact into the story so well that he probably will have to rewrite the whole story here if he was to change it from meeting Amitabh Bachchan to, say, some great industrialist or a visionary.
While I am on the comparison of the two directors, it is also interesting for me to see the two working together. From mid-90s Bollywood was taken over by what I called above Karan Johar brand of films. In the last few years, it is moving more towards serious, more realistic, more experimental films. I believe Anurag Kashyap has played very important role in it. In other words, it has migrated from Karan Johar school of film-making to Anurag Kashyap school of film-making. And to give credit where it's due, even though two streams could not be more different, Karan Johar has been very supportive of this transition. But for that reason, it is rather interesting for me to see them work in collaboration.
It ends with sort of song and dance sequence that Bollywood is famous for. I haven't exactly sorted out how I feel about it because best thing about this is it brings a lot of big names of the industry together to give tribute to industry itself but I then it also could have been better. I thought it to be rather cheesy and lyrics certainly could have been much better but I guess I can live with it.
Rating(out of 5):