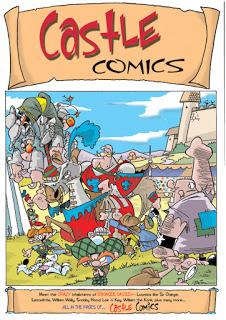 A couple of years ago I serialised a graphic novel called Brabbles & Boggitt, which was quite a big hit with you all at the time.
I did say that I would be putting it up onto Amazon one day, and I still intend on doing just that, but finding the time to sort out the formats and all the crap that goes with it is proving too time consuming at present. So for the time being you will have to wait for that particular little ray of sunshine to enlighten your days. But you can be rest assured that as soon as I have found the time to upload it, the sooner you will be able to purchase your copy.
But even before I posted the Brabbles & Boggitt story I produced a specialist comic for the Castle gift shop  market in the UK. The book was titled Castle Comics and was a collection of one, two, three, four and six page tales that revolved around the nut cases that lived in and around a fictitious medieval place called D'Boncee Castle. The book eventually sold into over 400 outlets and shifted thousands of units.
Although initially written for children, Castle Comics turned out to be as big a hit with adults as it had been for the kids; proving that I had inadvertently produced a comic book that transcended the age barriers. A true 'all ages' comic book.
All well and good, I hear you say, but why are you filling up my tea break with 'what happeneds' and 'maybe some days'? Well I'm glad you asked.
I've still got around 140 physical copies from the original 10,000 print run of Castle Comics sitting in boxes under my stairs, and I intend to start selling them through Amazon, and soon through the store section of this site, while also planning  to publish one page, every Friday---just like I did with Brabbles & Boggitt---until the whole book has been posted.
Now that said there is nothing stopping you going ahead and purchasing it at any time, and indeed I encourage such actions whole heartedly, and when Amazon have finally got their 'one-click' finger out of their asses and sanctioned the page, I will put a link on every post that I publish for Castle Comics so you can jump straight through, purchase my book and make my day.
So with all this in mind I thought it would be a good idea to post the two character pages as a taster of what and who you can expect to see over the coming few months before running headlong into the first page; which will go live this Friday 14th August.
All this and more regular updates on my other projects, tutorials, silly tales of my life and videos make this the one and only site to come to for all things Karl Dixon & Diary of a Cartoonist & Writer related.