True Blood has cast the role of Eric's 'sister' Nora already – according to TV Line.com! That seemed fast…didn't the casting call only come out last week?
Warning: If you don't want to know – don't read below!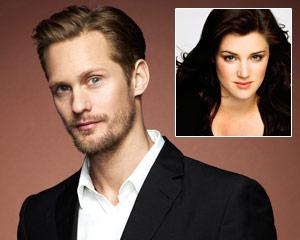 Eric Northman and his new 'sis'
This is what Michael Ausiello said over at TV Line.com;
British actress Lucy Griffiths is coming to America in a bigway.

The 25-year-old stunner — best known for her role as the ill-fated Marian in the BBC drama Robin Hood — is joining True Blood's Season 5 cast as a series regular.

Griffiths will play Nora, Eric's (Alexander Skarsgard) centuries-old vampire "sister" (they were both progenies of Godric) who is working as a double agent within the Vampire Authority. Described as intelligent, intimidating, cool under pressure and a very good liar, Nora loves Eric deeply, but has dedicated her life to a higher purpose.

The gig marks Griffiths' first big break stateside after several near misses. Most recently, she was among the leads in The CW's zombie thriller pilot Awakening, but the show was not ordered to series.

True Blood's fifth season starts production later this year ahead of a Summer 2012 premiere.
Hmmm…I think I've seen her on Robin Hood before…but I can't remember if this actress is talented or not, but I do remember that I couldn't really get into Robin Hood. I've heard of Awakening, but I've never seen it.
What are your thoughts?  Share 'em below!
ETA: Here's a better picture of Lucy Griffiths in Robin Hood, thanks to missford1.tumblr.com!