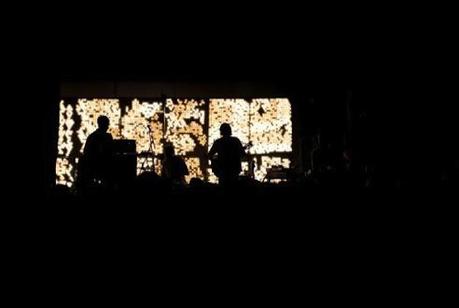 Photo credit: Time Out New York (Loren Wohl)
With the exception of shimmering lights emanating from the back of the stage, the Bowery Ballroom was completely dark for singer-songwriter Cass McCombs' set on Wednesday night. The sold out crowd packed in the venue, even tighter than sardines, and was held in rapt attention throughout the show.
The evening started off on an impossibly high note with opener Frank Fairfield. Sitting on the stage with only a microphone and constantly rotating between a fiddle, banjo and guitar, in addition to stomping on the stage for percussion, Fairfield silenced the mostly full theater for the entirety of his almost 45 minute set. With songs called "Good-bye Booze Forever More, My Boozing Days will Soon be O'er", Fairfield's Appalachian infused voice and jaunty accompaniment offered a surprising and thoroughly enjoyable show for those slowly filing into the theater.
After a half hour wait, Cass McCombs (@cassmccombs) and his band slid onto the backlit stage. There was no making out the band beyond their silhouettes for the entirety of the show, but this only served to enhance the pure enjoyment of their music. The lethargic and exceedingly simple country rock floated over the sold out crowd, who were able to contemplate the stark and personal lyrics instead of following a rapturous show. The band played incredibly well together and was mixed perfectly, allowing for each note to shine and achieve maximum impact. McCombs' lovely songs were the highlight of the night, with very little else added — no stage banter, no movement, just shimmering lights and shimmering songs.