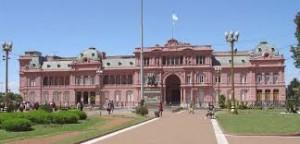 As you know already, Expanish is located in the heart of Buenos Aires, Argentina.  One of the benefits of the school's central location is that it is walking distance from many major tourist attractions.  After class, you should be sure to check out one of the many sites located near our school.
One famous tourist destination in Buenos Aires is the Casa Rosada.  Deemed a national historic site of the nation, the Casa Rosada currently serves as the main government hub of the nation, which includes the office of the President and the presidential mansion.

The site of the current Casa Rosada was originally designed as a fort to protect Buenos Aires.  It was completed in 1594 under the direction of the city's founder, Juan de Garay.  In the late 1800s, it was renovated to its current form.
Located just off the Plaza de Mayo, it is a short walk from the Expanish school building.

The Casa Rosada is open daily from 11am to 7pm and we recommend that you block off two to three hours to completely enjoy all it has to offer.