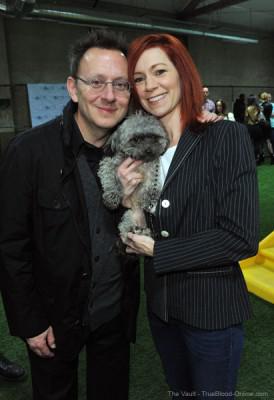 The 25th annual New Harmony Project (NHP) conference will be held May 23 through June 4, 2011, in New Harmony, Indiana. On Saturday, June 4, True Blood's Carrie Preston and husband Michael Emerson, will attend Conference beginning at 6 p.m.
As the president of the board, Preston has been involved in helping plan and organize each conference for the past six years. The June 4th gala event will consist of a dinner with the community of this year's professional artists, writers, directors, actors, etc., as well as feature live readings of selected scenes from plays and musicals that have been developed at The New Harmony Project over the years. Both Preston and Emerson will act in their own scene during the event.
Free and open readings are held throughout the run. Full-development projects will have benefit of a two-week workshop with a professional director, dramaturg, and a company of actors selected specifically to work with the writers to further develop their scripts. Writers-in-residence, generally more seasoned writers, attend to work on scripts of their choosing.
This year's selection panel, which includes not only board and staff, but also Artistic Director Paul Walsh, and playwright/TV screenwriter Jim Leonard, Jr. ("Dexter", "The Closer"), reviewed 180 scripts submitted from some of the nation's best writers.
Preston says, "We have an amazing line up this year. Three of the writers — Alex Lewin, John Walch and screenwriter Travis Fine are with us for the first time. Award-winning playwrights/screenwriters Theresa Rebeck and Dan O'Brien are returning. We are also honored to have Pulitzer prize-winning playwright/screenwriter Robert Schenkkan, author of The Kentucky Cycle, Meredith Stiehm, creator of the hit TV show "Cold Case," and Sherwood Award finalist Lina Patel as writers in residence."
Read more about this event at the source: openpr.com