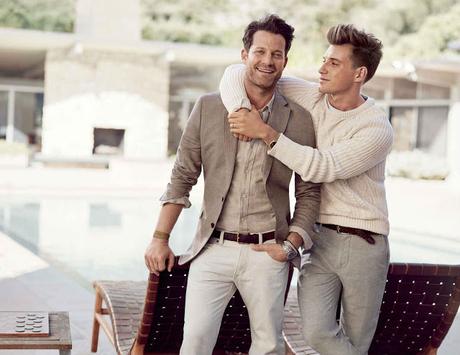 I was catching up on Nate Burkus and Jeremiah Brent's renovation show on TLC,  By Design while I was recovering from the flu.  I love these two, their show, their design aesthetic and the way they interact with each other.
On this particular show they were helping a woman renovate her childhood home.  Sherry lived there with her parents and mentally ill sister.  It became her job to care for everyone, including the house, at the expense of her self care.  The house fell into disrepair and Nate and Jeremiah came to her rescue.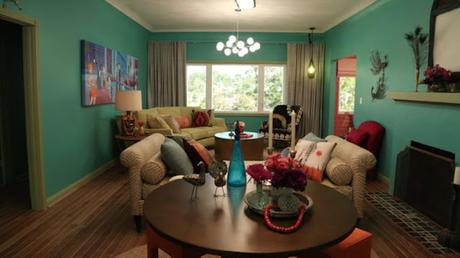 I especially loved this episode. The guys often talk about how our homes heal us, and this was a perfect example.  I speak of this often!  Memories were made here, most really beautiful, but intertwined with pain and sadness.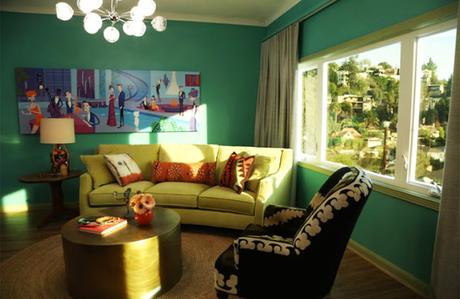 Sherry described what she wanted her perfect home to feel and look like ~  retro, colorful, with a mid century vibe right out of a Shag painting.  Nate and Jeremiah came up with the "Carrie Bradshaw meets Jetson's" moniker.  Which they gave her in spades!
The reason why I bring this whole story up is because they did something extraordinary.  The guys wove the happy memories Sherry had of her childhood, her parents and this home into the renovation, thereby helping Sherry move forward towards a bright future, Nate and Jeremiah took some of her mother's antique textiles that she had collected over the years to Astek wallpaper  who reproduced the design of one of the textile's into wallpaper and reworked it for an updated version of her mother's vintage fabric.  Nate and Jeremiah wrapped the bedroom walls in it.  This is not just wallpaper now, it is so much more!   Sherry feels wrapped in her mother's arms.  How beautiful is that?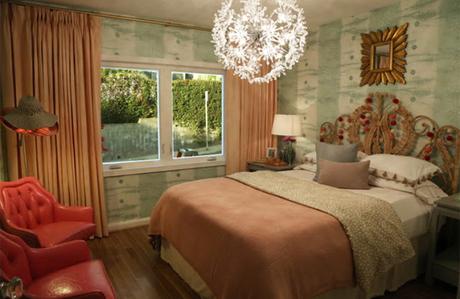 This was the before kitchen.  Sherry has distinct memories of her mom standing in front of the sink doing dishes.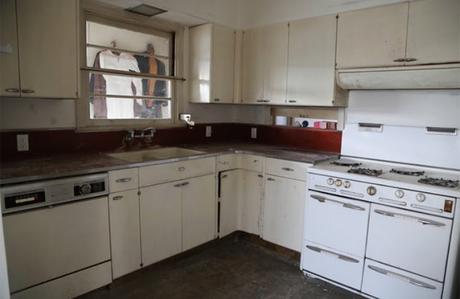 The after kitchen ~   Sherry said she would love to step into Barbie's dream house.  The guys really stepped out of their confront zone to give her exactly what she asked for.  It is modernized for today's standards yet still mod, in keeping with the look of the rest of the house.  The lower kitchen cabinets were repainted and topped in laminate.  The countertop edges were wrapped in metal, indicative of a vintage vibe.  It's everything Sherry could have asked for,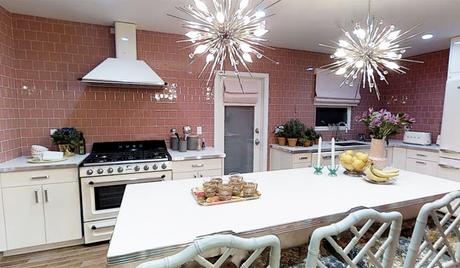 Now that's healing design.
There is a lightness, a happiness to the home that had been missing from Sherry's life for a long time! Sherry can now step into her future feeling optimistic and enthusiastic!
An perfect example of Living Beauti~FULLY
portrait photo by Mikael Jansson