My daughter and I really enjoyed the first book,  Rosie and Scamper , in the Sonrise Stable series.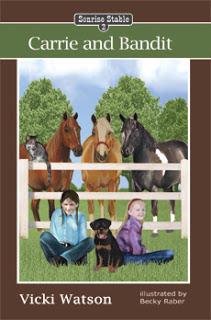 We both jumped for joy when we received an offer to read and review the next book, Carrie and Bandit.
Written by a horse-loving Christian, Author Vicki Watson scores big with another heart warming, engaging and informative equine tale.
This story picks up where the previous book ends with soon-to-be adopted Carrie counting down the days before she's officially part of a forever family.
Biblical values are stressed as Carrie learns a powerful lesson both in unconditional love and forgiveness plus the reader is versed on what it means to have a spiritual adoption.
Intermixed in the plot is the care and training and humorous portrayal of the personalities of Scamper, Bandit and Kessie . The three horses who share the spotlight of this book will endear themselves to you and add to the flow of the story.  
After Carrie's adoption is official, Carrie's "new" sister Rosie, Mom and Grandmother take a celebratory trail ride.  Grandma's horse falls down a cliff and both are injured.  The resulting rescue and interaction of the vet in care of Kessie the horse is fascinating!
While Grandma is recuperating, a solution to solve multiple woes is suggested --- buy a horse farm and have the family move in all together.  Hmmmm, seems like the perfect set up for more adventures!


I recommend this wholesome book and look forward to reading the third book in 

The Sonrise Stable

 series, Clothed with Thunder.


About the Author: Vicki Watson
My love of horses began when a teenage neighbor offered me my first ride, on the back of her horse. From my 8-year-old perspective, it seemed like the biggest horse in the world. From that moment on, I was addicted. Horses were to become a very important part of my life, although I never could have imagined, at the time, how much God would teach me about Himself and my relationship to Him through these wonderful animals.
The Sonrise Stable series combines my love of God and horses in stories that I hope will help children learn more about both. I have a vision for ten initial books in the series, taking the main characters through one year. Beyond that I'll see where God leads me.
I have been blessed with three daughters and homeschooled each of them through high school. I enjoy trail riding my Rocky Mountain mare, Nikki, hiking, photography, and playing guitar. I work from home as a and computer programmer and enjoy the variety and flexibility that allows.
Disclosure:

 I received a free copy of this book to review. I was not required to write a positive review nor was I compensated in any other way. The opinions I have expressed are my own. I am disclosing this in accordance with the FTC Regulations. I am part of 

The CWA Review Crew SPECIAL OFFER FOR Homeschool Circus SUBSCRIBERS through October 31: Use code LISAtips for a $19.99 discount when you buy any curriculum CD Library plus Spanish Empire library. This post written and property of Homeschool Circus and can be found at: www.upatdawnreadytowork.com.