0 Flares
0 Flares
×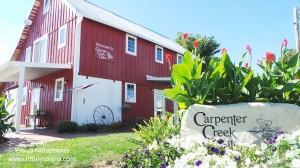 Carpenter Creek Cellars Winery in Rensselaer, Indiana
Carpenter Creek Cellars in Jordan, Indiana may be one of Indiana's newest wineries–but it's still winning awards!
Down a field-lined road you will find the peace of country living, friendly atmosphere, and free tastings.
Carpenter Creek Cellars in Rensselaer, Indiana
You would never guess that once upon a time, not so very long ago, the charming red barn was once the home of draft horses! Built in 1919, it's come a long way from it's original purpose.
The barn built by winemaker Ed Courtright's grandfather now houses a great Jasper County attraction located between the towns of Remington and Rensselaer, Indiana.
Step inside and enjoy the pleasant tasting room complete with gorgeous vineyard views and stamped concrete flooring–in a grape pattern, of course.
Rensselaer, Indiana Winery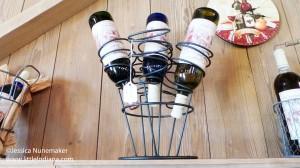 Carpenter Creek Cellars Winery in Rensselaer, Indiana
It began with the grapes. The desire to supply wine grapes led Ed Courtright and his son to plant the first vines. This vineyard is now known as "Byron's Vineyard" in honor of his memory. A decade later, a larger vineyard, the "Big Vineyard" was planted.
Gaining two business partners and with years of paperwork behind them, Carpenter Creek Cellars finally opened their doors to the appreciative public in March of 2013.
Just a mere six months later, Carpenter Creek Cellars racked up the awards at the 2013 Indy International! Carpenter Creek Cellars won shiny medals for several of their wines!
These included a Silver Medal in Gunny White, Sunset Rosé, and Sunset Red snagging Bronze Medals for both the Gunny Red and the Riesling.
Go There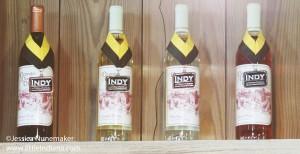 Carpenter Creek Cellars Winery in Rensselaer, Indiana
Carpenter Creek Cellars in Jasper County is a true labor of love. The proof is in the taste!
Visit this lovely Indiana winery and enjoy the fruits of the harvest. I know I did! I couldn't leave without a bottle of the Gunny Red.
Small Towns: Destinations, not Drive-Thrus! I'm Jessica Nunemaker and THIS is little Indiana!
Find pictures in Indiana on my Flickr photostream or on the new little Indiana Tumblr blog.
Just don't forget to tell 'em that  little Indiana sent you!
Carpenter Creek Cellars Winery
11144 Jordan Road
Jordan, Indiana 47977
219.866.4334

View Larger Map
Don't miss a moment. Subscribe to little Indiana and receive instant updates to stay on top of everything "little."
little Indiana: Where to Stay, Play, and Eat in Small Towns in Indiana. Discovering Indiana's best small towns! Now get little Indiana on your Kindle.
Targeted. Relevant. Affordable! little Indiana advertising.