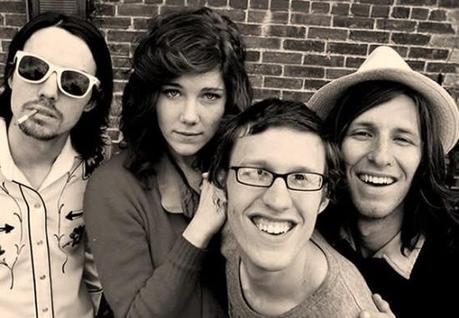 Tanktop - Caroline Smith and The Good Night Sleeps
In 2006, at the ripe age of 18, singer/songwriter Caroline Smith planted herself in Minneapolis, Minnesota. Here, she was welcomed into the local music community and developed a following around her solo career. Upon meeting drummer Arlen Peiffer (of Cloud Cult), bassist Jesse Schuster, and multi-instrumentalist David Earl in 2007, though, Caroline Smith and The Good Night Sleeps (@goodnightsleeps) came to fruition. The resulting sound is an enchanting soulful-folk with evident pop influences.
In August of 2008, Caroline Smith and The Good Night Sleeps released their first full-length album, Backyard Tent Set.  Featuring basic folk instrumentation, the acoustic guitar, banjos, and varied percussion are the perfect foundation for Smith's sweet yet sultry voice (think Florence Welch, Joanna Newsom or Kate Nash) and a great introduction to the band. Since then, they've gone on numerous nation-wide tours, regular Mid West tours, and a few festival gigs (like West Fest 2010) which have landed them spots alongside acts like Horse Feathers, Dale Earnhardt Jr. Jr., OK Go, Beach Fossils and Fucked Up. In early 2010, Caroline Smith along with her bassist, Jesse Schuster released Live At The Cedar, which features songs from Backyard Tent Set and a few originals.
Their second self-released LP, Little Wind, is in the works and will be available on September 20. Broadening their scope by incorporating more electronic instrumentation and effects, this album will hopefully have a much richer, fuller sound, while maintaining the folk meets pop roots that have gained Caroline Smith and The Good Night Sleeps their very supportive fan base.