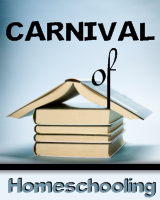 The first post today is from Jen. She discusses the importance of setting priorities and keeping some sort of order to our lives with realistic expectations. 

Homeschool and Life: How we get it done


At Home Spun Juggling, you can also see a reminder about keeping priorities straight, and making certain that our dedication to our schooling doesn't lead to the neglect of other important things, like our health. 

Home Spun comic strip #705 


Over on "Waiting for Charlie" you can read about a Daisy group's Garden project. 

"Welcome to the Daisy Flower Garden - a Journey Review"


On Homeschool Bytes, you can read about a creative App that is for the youngsters learning to write. 

IWriteWords App Review – My 3-year-old loves it!

 You can also find out about a free online program for

learning ASL Sign Language.


Speaking of technology, who would have thought that an iPod could help a child learn to read? Well that is just was this family discovered at

A Life Supreme.


At Dewey's Treehouse, they are studying the amazing 

Underground Railroad


At Home School vs. Public School, they are talking about history as well. 

Exploring History With Your Home School Student

 discusses different ways of looking at history.




At The Legacy of Home, you can read about 

The Importance of Home Economics Training.


Over on Eclectic Momma, you can read about her take on the difference between a "Reminder" and a "Resolution" at 

Reminders.


Lessons from the Homestead shares with you the great educational opportunities you can find in even the simplest of tasks, like 

Planting Seeds.


At Parent at the Helm, you can read about how once again, science confirms what loving parents already know. That a 

Mother's Love Leads to Better Learning.


Holy Spirit-Led Homeschooling is sharing a great resource - a free eBook: 

100-Indoor Activities for Kids.

 Perfect for when we are stuck indoors in the long winter!




At the Homeschool Co-op, you can learn about the benefits of a

Montessori style

 education.




Homeschool Happymess is currently learning about Impressionistic Art in 

State of The Art: A Homeschool Studio.


Jimmie compares 

Homeschooling and Exercise 

at Jimmie's Collage.




The Thinking Mother shared a special moment she had with her son....one of those times where you child says something that makes your 

Heart Swell.


Homeschool Circus shares how 

Once a Month Cooking 

benefits their family.




Time4Learning is sharing something that our family knows a lot about. How your 

pets can be part of your schooling.


At Tea Time with Annie Kate, she discusses how the seasons can play a role with how your 

school "works."


The Homeschool Dad has a creative way of teaching his kiddos about the Presidents....by focusing on 

their birthdays!


Golden Grasses discusses how History is a story, or narrative, and so much 

more than just "evidence."


And thus ends this week's Carnival of Homeschooling!

This post written and property of Homeschool Circus and can be found at: www.upatdawnreadytowork.blogspot.com . If you are reading this from a source other than www.upatdawnreadytowork.blogspot.com you are reading a scraped copy!