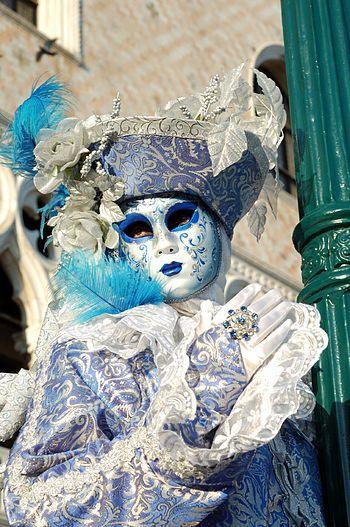 English: Carnival of Venice. (Photo credit: Wikipedia)
Carnival is a worldwide phenomenon, an outburst of tradition and joy that engulfs locals while providing photogenic entertainment for travelers lucky enough to crash the party. It flourishes around the world that has strong Catholic or Orthodox religious traditions (the Fasnacht celebration in Basel, Switzerland, is a notable Protestant exception). Immigrants export Carnival with them: witness the celebration in Goa, India, a holdover from that community's Portuguese
rule, or the street festivals that have sprung up among the West Indian diaspora in New York and London. Some of the best places to enjoy carnival are:
Venice
The Venice Carnival is definitely one of the most popular festivities the city has to offer. It starts two weeks before Ash Wednesday and ends on the day before, Shrove Tuesday. The carnival first took place in the 11th century, but has been celebrated the way we know it since 1979. The whole city is into it – on the St. Mark's Square one is able to observe a fantastic display of masks and costumes. This open-air festival, where everyone is asked to join in, offers a variety of activities which include listening to live music in the main squares, stumble around the beautifully decorated city and simply having a great time.
Rio de Janeiro
There's really no comparison when it comes to Carnival celebrations when Rio is thrown in the mix. Brazilians take their weeks before Lent very seriously, putting on large-scale parades and festivities that in 2011 drew nearly 5 million people. The most famous holiday in Brazil features samba schools, or large groups of dancers and performers, who build spectacular floats and compete in one of seven divisions based on music, costumes and theme. Individual neighbourhoods more and more are seeing smaller-scale parades, blocos, which feature drum parades, samba and other high-octane sights and sounds.
Cádiz
The carnival in Cádiz is one of the largest and most important festivities on Spain's event calendar. As one of the country's main ports during the 16th century, Cádiz acquired the idea of celebrating a carnival from Venice, a city they were often in trade with, and then became the most popular and dazzling carnival town in Spain. The most well-known elements of this event are the costumes and the music. Unlike the Italians, the Spanish prefer painting their faces rather than wearing masks, and they work on their elaborate costumes for months in advance. The main types of performers include the 'Chirigotas', humorous groups that perform satirical pieces about politics, the choirs, large groups of singers entertaining people in the streets accompanied by stringed instruments, and the 'Romanceros', solo acts playing in the streets for both locals and tourists.
Sources: venice-carnival-italy, koelner-karneval.info, andalusia.com

© 2014, Amsterdam City Tours Blog. All rights reserved.
On republishing any part of this post, you must provide a link back to this original post